Pilot program captained by Army Chief of Staff, Ray Odierno, will facilitate the hiring of U.S. Army Soldiers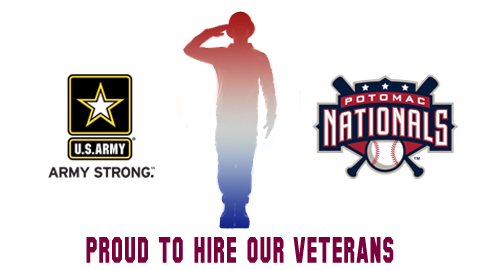 Woodbridge, VA- Minor League Baseball's Carolina League and the Potomac Nationals are joining the U.S. Army in launching a pilot program focused on hiring U.S. Army Soldiers transitioning to civilian careers, veterans and their families for the 2013 baseball season.
This initiative has stemmed directly from one of the Army Chief of Staff, General Ray Odierno's top priorities of assisting soldiers transitioning from the Army, as well as Army Reserve and National Guard soldiers in finding jobs.
"We must do our utmost to ensure that the Soldiers leaving the force are treated fairly and that they and their families are provided with support to help them successfully transition to civilian life," said Odierno.
This task falls directly to the U.S. Army Transition Strategic Outreach (TSO) and U.S. Army Reserve Employer Partnership Office (EPO), whose main mission is to provide civilian organizations Soldiers and veterans with proven leadership skills, work well as a member of the team, possess skills that allow them to efficiently perform under stress and solve problems while adapting to change.
The pilot program will begin with Northern Virginia's Potomac Nationals and, if successful, will expand to the other Carolina League teams throughout the season.
"Those of us who have been in baseball a long time know the value of veterans as employees, and we are happy to share this experience with our fans and business partners. We are very proud that our Potomac club and the Army have taken this step, and I expect to be taking this initiative league-wide in the near future," said John Hopkins, Carolina League President.
The pilot program will be announced during the Potomac Nationals' season opener against the Lynchburg Hillcats (Atlanta Braves) on Friday, April 5th where they will recognize the first veteran of the program to be hired, Retired Army Sergeant Arthur Bouvier IV. He will be given the honor of throwing out the first pitch and will be joined by officials from the Potomac Nationals and U.S. Army on field. Additionally, fans attending the game will be treated to the U.S. Army's Fife and Drum Corps prior to the game for a special performance in honor of this initiative.
"The Potomac Nationals are proud to be a part of this effort with the U.S. Army, and look forward to working with the great men and woman who have served our country with such pride, integrity and leadership. These are important qualities to the Potomac Nationals' organization and we look forward to a great season," says Potomac Nationals Vice President/General Manager, Josh Olerud.
This new relationship between the U.S. Army, Potomac Nationals and the Carolina League is a part of an ongoing Army commitment to connect with the community, and to successfully reintegrate Soldiers, veterans and their families into civilian life.
About The U.S. Army Transition Strategic Outreach Office: The TSO is the primary conduit for Employers and Industry to access the Army Talent Pipeline. Our staff of strategically-focused professionals serves as the Army's preferred point-of-contact for Businesses and Hiring Managers – thereby facilitating the connection between transitioning Soldiers and potential job opportunities. We help Employers "navigate" the Army's reintegration network by developing lasting Industry relationships. This targeted effort then builds the foundation for numerous long-term, value-added partnerships between Businesses and the Army. For more information visit: www.hrc.army.mil/tagd/ArmyTalentPipeline.
About the Employer Partnership Office: The Army Reserve Employer Partnership program launched in 2008 with a mission to connect military-friendly civilian organizations that have employment opportunities to reserve or veteran status job seekers. There are currently has more than 3,700 Employer Partners with the Army Reserve across industries such as law enforcement, medical, and transportation and more than 45,000 job seekers registered with the Employer Partnership Office. For more information visit, www.employerpartnership.org.
About the Carolina League: Founded during World War II, the Carolina League's inaugural 1945 season featured two Southside Virginia cites. But throughout the 1940s and '50s it was known as a predominately North Carolina League. Over its first 65 years, the Carolina League has established itself as one of baseball's premier Minor Leagues, a circuit renowned for hot prospects, intense rivalries, memorable pennant races and excellent play. The league has fielded anywhere from four to 12 teams, in places ranging from metropolitan centers to tiny Red Springs, N.C., with only 4,000 people. For more information visit, www.milb.com.
The Potomac Nationals Professional Baseball Club is the Class-A Advanced affiliate of the Washington Nationals and competes in the Carolina League. P-Nats 2013 season tickets and mini plans are on sale now. Renew your season tickets at Pfitzner Stadium for only $50 per seat. Sponsorship opportunities for the '13 season are now available. Plan your corporate outing now in preparation for next season as the P-Nats offer discounted group rates and all-inclusive picnic options. Visit the P-Nats online at www.potomacnationals.com or call the ticket office at 703-590-2311 for more!
This article originally appeared on the official website of the Potomac Nationals. Click here to view the original story.