Here is a link to the original story on the team's website.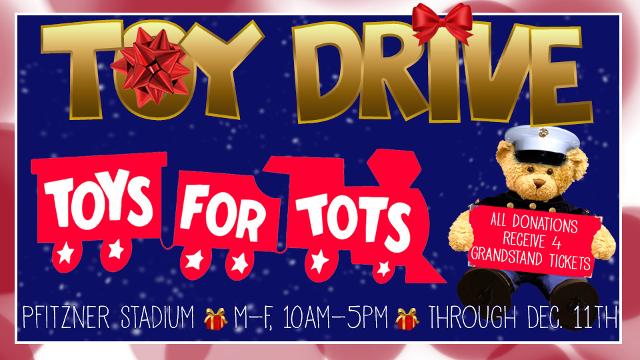 Woodbridge, VA—As the holiday season comes upon us, the Potomac Nationals are excited to announce a new partnership with Toys for Tots. The local program, run by the Quantico Chapter of the US Marine Corps, collects new, unwrapped toys in November and December. These gifts are then spread to children in the area on Christmas Day.
"While the holiday season is a joyous time of the year for the Potomac Nationals family, spent reflecting on all which we are thankful for, and sharing gifts with our loved ones and friends, there are many underprivileged children in our region who will not be afforded the same opportunity to open presents during the holidays," said Potomac Nationals GM of Sales, Bryan Holland.
"In an effort to serve as a conduit to our community's less fortunate, the P-Nats are honored to partner with the Toys for Tots program, which annually distributes millions of toys to kids across the United States, as a means to collect toys that will be distributed directly to kids in Northern Virginia who would not otherwise be receiving gifts from their families," said Holland.
This is the first year that the P-Nats and Toys for Tots have partnered during the holiday season. Collections will begin in the P-Nats' Front Office at Pfitzner Stadium starting tomorrow, November 9th, and will conclude on Monday, December 11th. Toys can be dropped off at Pfitzner Stadium during normal business hours (9am-5pm) Monday through Friday. Anyone who contributes a new and unwrapped toy will receive four undated grandstand tickets for the 2018 Potomac Nationals' season.
"Any time that the Potomac Nationals can utilize our network of fans, booster club members, sponsors, and friends of the franchise to benefit the greater good, and in this case, to make the holiday season a special and memorable one for underprivileged kids in our community, our club is prepared to dive headfirst into that effort," said Holland.
"Thank you in advance to the terrific Red, White, & Blue fan base for your support towards the donation of toys and other gifts, which will reach our community's disadvantaged children following the Potomac Nationals' Toys for Tots holiday drive."
Preparations for the 41st season in Potomac franchise history are already underway, as season tickets are currently on sale! Fans who renew their full or half-season plan with a deposit of either 10% or $50, whichever is higher, by December 1st, can lock in 2017 ticket prices for the 2018 campaign before the new 2018 pricing goes into effect.
The Potomac Nationals of the Carolina League play at Pfitzner Stadium in Woodbridge, Virginia, and are the Carolina League affiliate of the Washington Nationals. The Potomac Nationals have claimed five Carolina League Championship titles (1982, 1989, 2008, 2010, and 2014) and nine CL Northern Division Championships. Sponsorship opportunities for the P-Nats' 2018 season and beyond are available, as well as all-inclusive corporate outings to watch the future stars of the Washington Nationals at The Pfitz. 2018 Potomac Nationals Season Tickets are now on sale. To purchase season tickets or for more information, please contact Alec Manriquez at 703-590-2311 ext. 221. For more information on Potomac Nationals 2018 tickets, group outings, and picnic packages, visit the P-Nats online at www.potomacnationals.com or call the Potomac Nationals' Extreme Custom Collision Ticket Office at 703-590-2311.
— Potomac Nationals —
This story was not subject to the approval of the National Association of Professional Baseball Leagues or its clubs.