Searching for Area Foursomes to Honor Each Game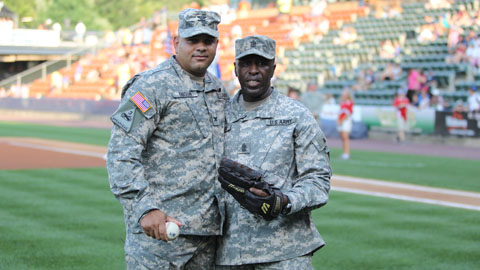 MOOSIC, Pa. – The Scranton/Wilkes-Barre RailRiders' community outreach continues. Today, the team announced a new initiative for the 2013 season that will pay tribute to those that serve in our nation's armed forces and their loved ones in NEPA.
Each 2013 home game will spotlight these local heroes with recognition on the video board at PNC Field, the opportunity to throw out a ceremonial first pitch, and four field reserved seats to enjoy the game. The team is actively searching for a title sponsor of the program that will all the more solidify PNC Field as NEPA's community ballpark.
"I could not be more thrilled to create a program like this that in some small way helps say thank you to those in uniform and their loved ones," said Rob Crain, president and general manager of the club. "Many kids look up to our ballplayers, and we certainly appreciate that, but these are the true heroes living right next door to us."
Area veterans, active military and families thereof are encouraged to submit their military story to the team's community relations department. E-mails can be sent to SWB's community relations manager, Rachel Mark, at rmark@swbyankees.com. Or fans may mail their tales to the address below:
SWB RailRiders
ATTN: Community Relations
50 Glenmaura National Blvd., Suite 101
Moosic, PA 18507
-All Aboard-
This article originally appeared on the official website of the Wilkes-Barre RailRiders. Click here to view the original story.