Here is a link to the original story on the team's website.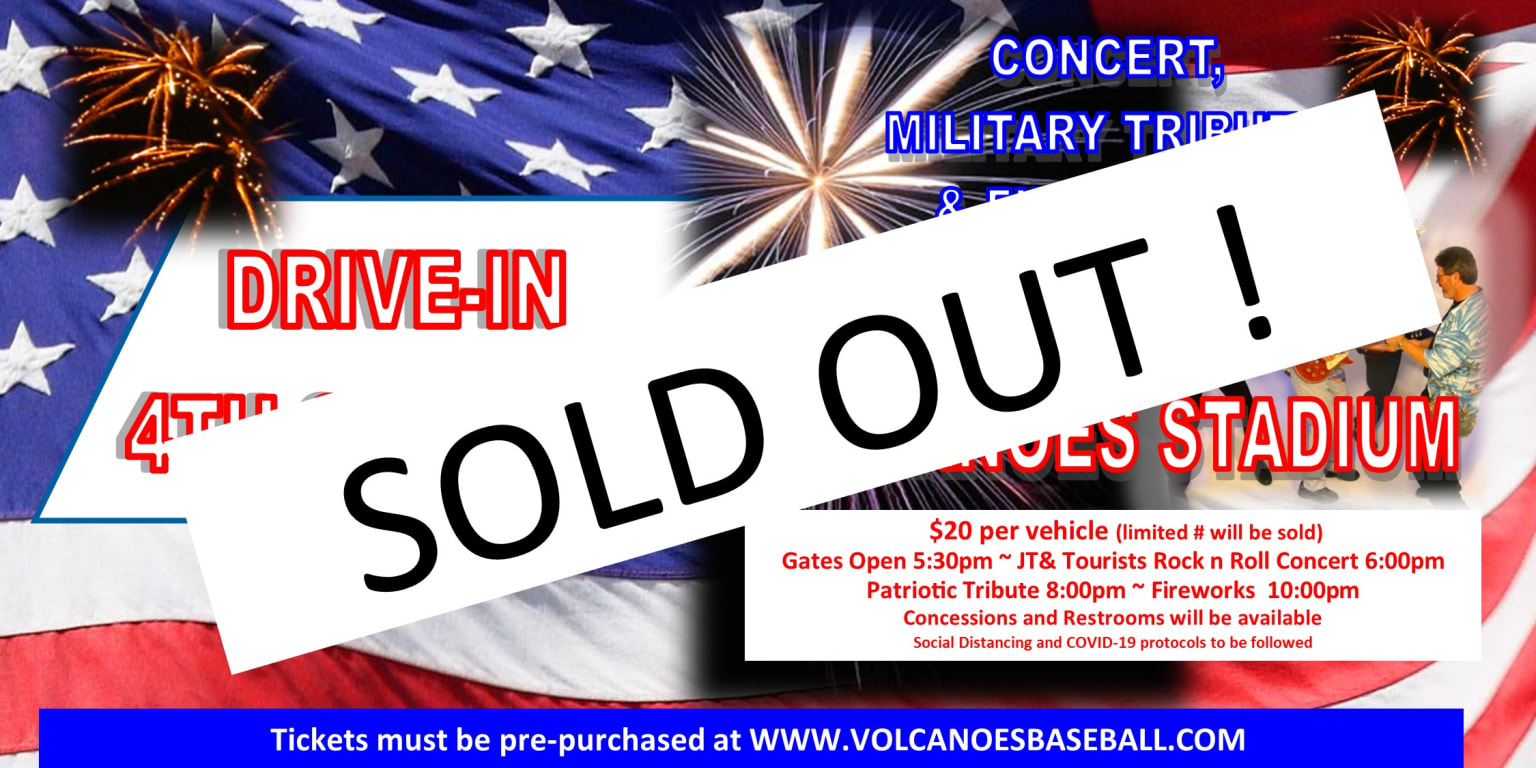 SOLD OUT! SOLD OUT! SOLD OUT! KEIZER, OR — The Salem-Keizer Volcanoes' long-standing tradition of "Thanking, Honoring and Saluting" members of the military is set for July 4, 2020.
This year's event will be, as in prior years, held at Volcanoes Stadium in Keizer. Unlike each of the prior tributes, there will not be a Volcanoes baseball game held in conjunction with the evening. Due to COVID-19, the Patriotic Tribute will be a drive-in type of event in the stadium's parking lot. It will still feature recognition of our military heroes, swearing-in of members to the armed services, a Fallen Warrior memorial and many tributes to those who have defended our country with multiple deployments.
The Volcanoes have become known throughout the region and country for their patriotic tributes. In 2019, the Volcanoes' Jerry Howard won the National Charles K. Murphy Award for the best Patriotic Tribute in the Nation.
Drive-In 4**th** of July Protocol
Vehicle spaces are limited and separated by at least one parking stall width. Staff will direct parking – vehicle parking will be staggered to allow best visibility.
Taller Vehicles (Trucks, Vans, RV's) that would limit site lines of lower vehicles will be parked towards the back of the parking lot to assure viewing for all
Event Rules: NO PERSONAL FIREWORKS
Maximum Parking Lot Speed 5 MPH
Vehicle must stay in assigned parking spot.
Unless needing to use restrooms or to visit concession stand, guests must stay within the passenger compartment of the vehicle.
Encouraged to wear facemask if visiting restroom or concession stand. Minimum 6' Social Distancing to be observed at all times.
Guests may not place any object outside of a vehicle that may obstruct the view of other guests
Headlights, parking lights, and interior lights must remain off while parked
No excessive noise allowed that would impair the hearing of other guest
Drugs, Alcoholic Beverages, Smoking or vaping of any substance is prohibited
Personal food and drink is allowed
Guests must take all trash with them
No exit and return to event is allowed
Sale of goods or services by guests is prohibited
Cooking, grilling, or other food preparation is prohibited
Pets not permitted (services animals allowed – but must remain inside vehicle)
Should this event be canceled for any reason – there are no refunds.
Failure to follow Event Rules or staff instructions will be cause for removal from event or police action.
Admission ticket is good for a passenger vehicle with up to eight (8) people. Additional ticket(s) need to be purchased for vehicles with more than 8 people.
Attendees voluntarily assumes all risks and dangers of personal injury as a result of attending the event.
Concession Stand Opens 6:00pm – Beer Sales end 9:15pm – Concessions Close 9:45pm
Menu: Hot Dogs $4. Hamburgers $5. Cheeseburgers $6. Nachos $4. Large Popcorn $5. Candy $2. Red Ropes $3. Canned pop or DASANI water $3. Canned or draft beer $6. Large $8.