Schedule Includes Three Campouts and Circuit of Fun Night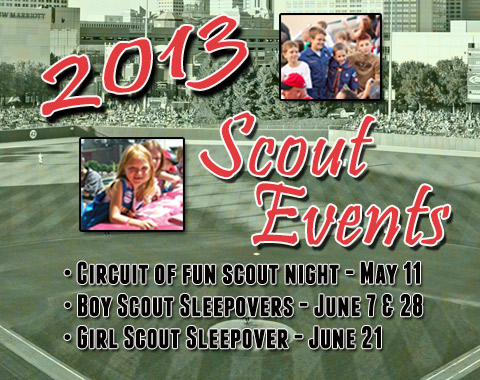 INDIANAPOLIS — The Indianapolis Indians are proud to announce the 2013 schedule of the annual Boy and Girl Scout events at Victory Field. This year's slate will include three overnight campouts, as well as the Tribe's first ever Circuit of Fun Scout Night on Saturday, May 11, which will include pre-game festivities and a post-game bases run.
Scout groups participating in the first annual Circuit of Fun Scout Night will be treated to free games in the PNC Plaza located in center field, and have the option of purchasing a discounted food and drink package during the pre-game party, scheduled from 4:00 p.m. to 5:30 p.m. The Tribe's award-winning mascot Rowdie will also be on hand to sign autographs and entertain patrons, as well as several players from the 2013 Indianapolis Indians squad. Tickets to the Circuit of Fun Scout Night include admission to the regularly scheduled Indians game, a special patch to commemorate the event and the opportunity to stick around after the evening's contest to run the bases.
Victory Field will turn into an overnight camp ground for troops, dens and packs during the Tribe's Boy and Girl Scouts Campout events. The fun-filled evening will begin with the regularly scheduled Indians game, followed by a fantastic fireworks show. Campout participants can remain in the ballpark after the game and are treated to popcorn and a movie on the videoboard. Scout groups will also have the opportunity to take to the Tribe's outfield to set up their tents for the evening, with the grand event being capped off by breakfast on Saturday morning.

Overnight Boy Scout Campouts are set for Friday, June 7 when the Indians take on the Durham Bulls at 7:15 p.m., and Friday, June 28, as the Tribe battles the Rochester Red Wings at 7:15 p.m. The Girl Scout Campout is scheduled Friday, June 21 immediately following the 7:15 p.m. contest between the Tribe and the Charlotte Knights.
Reservations for the Boy and Girl Scout Campouts, which historically sell out, and the first annual Circuit of Fun Night can be made by clicking here or calling the Victory Field Box Office at (317) 269-3545.
This article originally appeared on the official website of the Indianapolis Indians. Click here to view the original story.