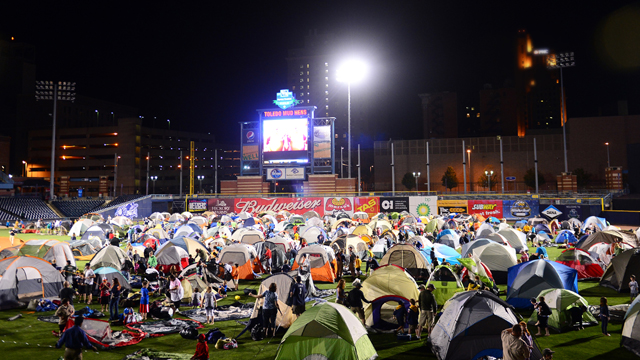 Calling all Boy Scout and Girl Scout troops! Back by popular demand, the Toledo Mud Hens are hosting Scout Experience Nights during the 2015 season. This is a great opportunity for scouts to watch the world famous Mud Hens in action, meet boys and girls from other troops, and have a sleepover at the ballpark!
Scout Experience Nights for Boy Scouts will be held on: May 23, June 6, June 19, July 17, July 18 and August 15. Scout Experience Nights for Girl Scouts will be held on: June 20 and August 8.
Tickets are $10, which includes a pregame Scout Parade on the field, a ticket to the Mud Hens game as well as an awesome postgame fireworks display! Add a picnic snack voucher for $5, redeemable at the game for a hot dog, chips and soft drink. Add the sleepover adventure for $8, which includes running the bases following the fireworks, building a tent, rolling out the sleeping bag and enjoying a family-friendly movie on the video board during an overnight stay at Fifth Third Field.

Other options include an all-you-can-eat breakfast buffet for $8 and Scout Night t-shirts: $12 for youth and $15 for adults.
With limited availability and the growing popularity of these events, you'll want to make your reservations early! Call the Scout Line directly at 419-725-9292 or send an email to scouts@mudhens.com.
This article originally appeared on the official website of the Toldeo Mud Hens. Click here to view the original story.