Donate New or Used Baseball/ Softball Equipment to Baseball Miracles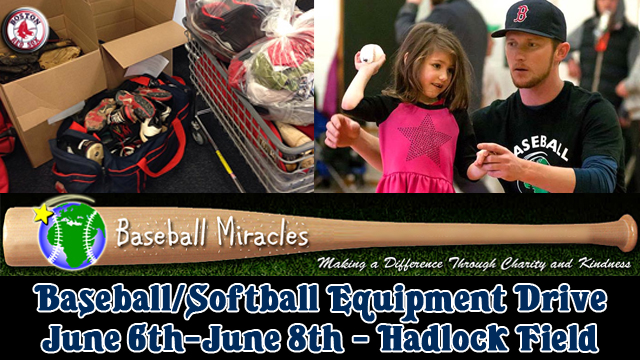 The Portland Sea Dogs, in conjunction with Baseball Miracles, are pleased to announce a Baseball/Softball Equipment Drive at Hadlock Field from June 6th – 8th when the Sea Dogs host the Bowie Baysox. Fans are encouraged to bring new or old baseball equipment to the ballpark to be donated to children who are faced with economical or environmental disadvantages.
The Sea Dogs will accept all types of baseball and softball equipment including gloves, bats, catcher's gear, bases, baseballs, softballs, wiffle balls and bats, which will be all donated to Baseball Miracles.

A non-profit organization, Baseball Miracles is a team of baseball and softball instructors, founded by Hall of Fame scout John Tumminia, who have joined together to teach boys and girls with economic and environmental disadvantages throughout the world. Sea Dogs' pitcher Mike McCarthy is the driving force behind bringing this initiative to Hadlock Field.
"I believe baseball is about more than just playing a game. It is indicative of life in many ways and is a fundamental part of development for youth in communities around the world," said McCarthy. "Baseball Miracles is a great opportunity for anyone who has benefited from the game of baseball to give back. From the casual weekend fan to the die-hard memorabilia collector, we are all able to help underprivileged youth around the world benefit from the life lessons that baseball has to offer."
The Portland Sea Dogs return home on Tuesday, June 3rd and open up a six game homestand through Sunday, June 8th. The equipment drive will begin before the Sea Dogs game against the Bowie Baysox (Orioles affiliate) Friday at 7 p.m. and will run until the end of the game Sunday.
Any equipment fans bring for the drive should be brought into the ballpark and dropped off at the Baseball Miracles box at Guest Services in the concourse at Hadlock Field. For more information on the drive, please visit www.seadogs.com or www.baseballmiracles.org.
This article originally appeared on the official website of the Portland Sea Dogs. Click here to view the original story.