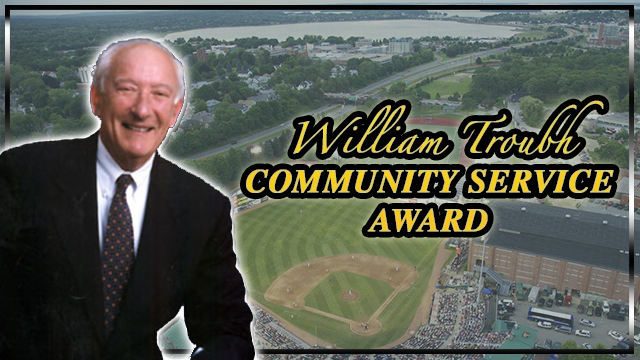 The Portland Sea Dogs are now accepting nominations for the first annual "William Troubh Community Service Award." The award will recognize a local citizen who is making a positive impact within the city of Portland. It may be a public employee or private citizen who, through their efforts, makes Portland a great city to live and/or work in.
The Sea Dogs announced the creation of the award in a pre-game ceremony at the teams' 2014 home opener, where the Sea Dogs paid tribute to Mr. Troubh after his passing in November. As part of the tribute, the Sea Dogs also renamed one of the Hadlock Field sky boxes in Troubh's honor.
Mr. Troubh was a lifelong resident of the city of Portland who dedicated his life to making Portland a great place to live and work. He served multiple terms on the Portland City Council and was Mayor of the city in 1974 and 1975 and again in 1983 and 1984. Troubh was instrumental in bringing the Portland Sea Dogs to the city in 1994. He also played a major role in the development of the Portland Waterfront, Cumberland County Civic Center and the Portland Ice Arena, now named in his honor. His contributions will be enjoyed by residents and visitors of the city for generations to come.
Additionally, Mr. Troubh was a passionate baseball fan. He stayed involved after his key role in helping to bring the Sea Dogs to Portland, serving as the team's legal counsel and served six years as President of the Eastern League from 1997 through 2002. On most summer nights Troubh could be found at Hadlock Field enjoying a Sea Dogs game with family and friends. He was inducted into the Portland Sea Dogs Hall of Fame in 2010.
To nominate someone for this award, please submit a written letter of support for your nominee and describe the actions they take to make Portland a great place to live and work. Nominations will be accepted until Friday, March 20th. Please submit your nomination in person at Hadlock Field or via mail to the following address:
Portland Sea Dogs
ATTN: William Troubh Community Service Award
271 Park Avenue
Portland, ME 04102
When submitting a nomination please also include your contact information.
The winner will be announced and honored in a pre-game ceremony on Saturday, April 25th when the Sea Dogs host the Trenton Thunder at 1:00 PM at Hadlock Field.
This article originally appeared on the official website of the Portland Sea Dogs. Click here to view the original story.