Here is a link to the original story on the team's website.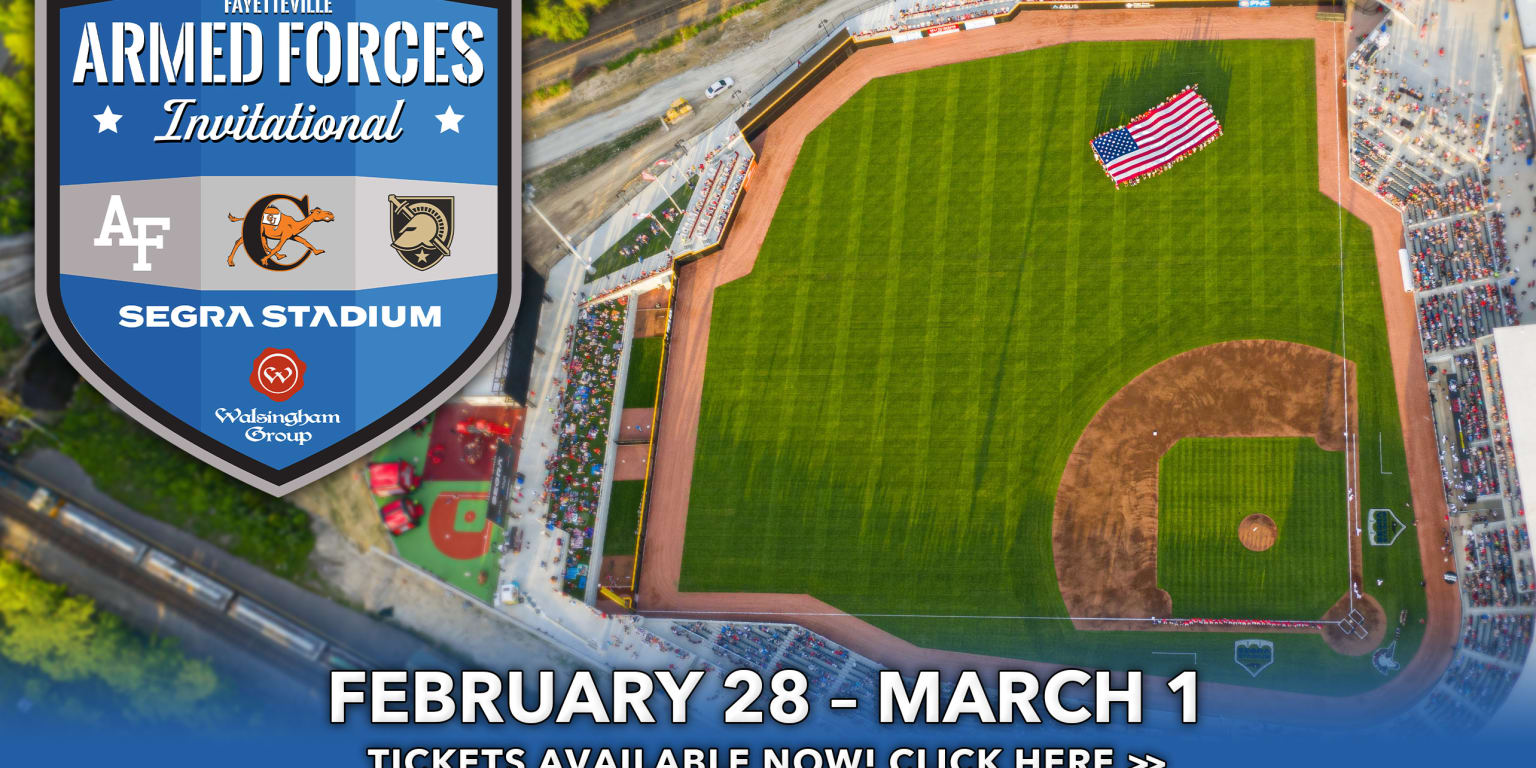 FAYETTEVILLE, N.C. – The Inaugural Armed Forces Invitational, presented by the Walsingham Group, Inc., will be played at Segra Stadium in downtown Fayetteville starting February 28 until March 1.
The three-day tournament consists of two games per day, with each team playing at least once Friday, Saturday, and Sunday. A post-game fireworks show will follow the conclusion of the last game on both Friday and Saturday night. The schedule with matchups, dates, and times are listed below.
Friday, February 28th
2 p.m. – Army vs. Air Force
6 p.m. – Army vs. Campbell
Saturday, February 29th
1 p.m. – Air Force vs. Campbell
5 p.m. – Air Force vs. Army
Sunday, March 1st
11 a.m. – Campbell vs. Army
3 p.m. – Campbell vs. Air Force
Army West Point Baseball Head Coach James Foster 
"We are very grateful for the opportunity to play in the Armed Forces Invitational with Air Force and Campbell. It will be a great weekend of baseball at a beautiful venue. The most exciting part is that we will be playing close to Fort Bragg and hopefully those in the military can come out and watch the games. We are truly honored to be able to play in front of those serving our country."
Walsingham Group, Inc. Chairman Ed Petkovich
"Walsingham Group is proud to sponsor the Inaugural Armed Forces Invitational. It's a wonderful opportunity for our community to showcase and pay tribute to the men and women who will lead our forces."
Tickets for the Armed Forces Invitational start at $10 and are now on sale. Ticket options include single day passes or discounted three-day passes. All current and former military will receive a discount for all three days of the tournament.
Fans can purchase tickets by visiting the BB&T Box Office or by clicking here.
For information on luxury or hospitality seating please contact the Woodpeckers at [email protected]

ABOUT WALSINGHAM GROUP, INC.
Walsingham Group, Inc. has partnered with the government since 2008 to deliver flexible, responsive, effective solutions for their most challenging problems. Walsingham performs comprehensive operations and maintenance support; intelligence related services; full-cycle logistics support; personal recovery; aviation support; and specialized staffing in worldwide locations for classified and unclassified requirements.

ABOUT THE FAYETTEVILLE WOODPECKERS
The Houston Astros own and operate its Class A Advanced minor league affiliate, the Fayetteville Woodpeckers. The Astros agreed to a 30-year lease and are invested in the long-term success of the City of Fayetteville. The team's direction focuses on creating a culture of success with an accessible management team, building the best young talent in baseball, engaging with fans, and connecting the community with an exciting, family-friendly experience. For more information on the Woodpeckers, please visit http://www.fayettevillewoodpeckers.com

ABOUT THE HOUSTON ASTROS
The 2017 World Champion Houston Astros have been Houston's hometown baseball team since 1962, when the Colt .45s first took the field in Colt Stadium. Three years later, the team became the Houston Astros as a tribute to America's "Space City" and will be entering their 58th season in Major League Baseball. In 2013, the Astros moved to the American League West Division, becoming the first franchise to move from the National League to the American League. The Astros are also the only team in MLB history to have won both an American and National League pennant. For 81 regular season games a year, the Astros can be found on their home field at Minute Maid Park, where families and friends come together to enjoy America's favorite pastime in one of baseball's most comfortable and fan-friendly ballparks. In addition to striving for success on the field, the Astros take pride in their local community and are committed to making Houston a better place by honoring our nation's military, combatting homelessness, aiding in the fight against cancer and supporting youth baseball and softball through the Astros Foundation's cornerstone programs. For more information on the Astros, please visit www.astros.com.

ABOUT SEGRA STADIUM
Segra Stadium, named a Ballpark Digest 'Ballpark of the Decade', is a $40 million state-of-the-art sports and entertainment venue is a catalyzing economic development tool that attracts and retains business, provides national exposure, increases civic and community pride, and provides for an improved quality of life for residents. Designed for baseball, concerts, and a host of other activities the venue seats 5,242 for baseball and up to 10,000 for major outdoor events. It features natural grass, a 25×70 LED scoreboard, six luxury suites, four field boxes, a premium club level, outdoor party deck, a kids zone, and more. For more information please visit, www.fayettevillewoodpeckers.com

ABOUT THE CITY OF FAYETTEVILLE, N.C.
Fayetteville is proud of its rich role in our nation's history and holds fast to the friendly feel of a true hometown, while providing the cultural and entertainment amenities of bigger cities. The city boasts sophisticated restaurants, museums, musical and sporting events, and nearby Fort Bragg – the nation's largest military installation – that solidifies the city's deep roots in all things military. Fayetteville is the sixth-largest city in the state and home to more than 208,000 residents. For more information, please visit www.fayettevillenc.gov.

ABOUT THE CAROLINA LEAGUE
The Carolina League consists of 10 teams and is within the Class A-Advanced level of Minor League Baseball. Founded in 1945, the Carolina League strives to provide a first-class baseball experience for its players and fans. For more information on the Carolina League, please visit www.carolinaleague.com
– WOODPECKERS –