Here is a link to the original story on the team's website.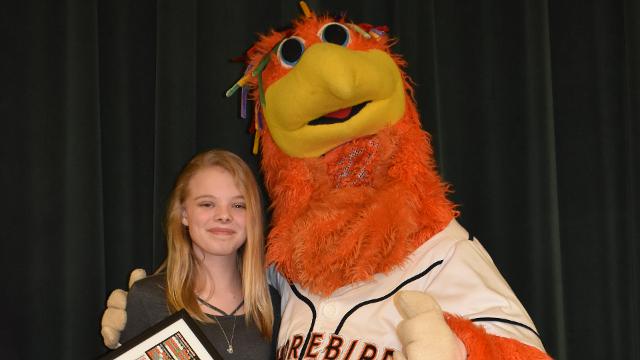 SALISBURY, Md. — The Delmarva Shorebirds, Class A affiliate of the Baltimore Orioles, along with Dr. James M. Crouse at The Brace Place, presenting sponsor of the Hit the Books program, honored Emma Adams of Mardela Middle School for winning the 2018 Hit the Books Bookmark Design Contest.
Her winning design was featured on bookmarks that were distributed to over 50,000 students at 100 area schools that participate in the Hit the Books program.
Hit the Books encourages elementary and middle school students on the Delmarva Peninsula to read outside of their regular classroom assignments. Students that complete their reading goals receive two free ticket vouchers to a Shorebirds home game during the 2018 season.
Adams' winning design features an aerial view of Arthur W. Perdue Stadium during a Shorebirds game with "Hit the Books!" on the video board along with Sherman pointing to the Dr. James M. Crouse logo while Sherman says "Get your braces here!" For her efforts, she was rewarded with a surprise visit at school from Sherman and representatives from the Delmarva Shorebirds and The Brace Place on Wednesday, January 17. She will also get the opportunity to throw out a first pitch before her school's Hit the Books date at Arthur W. Perdue Stadium this spring.
"Emma's design was great! Sherman was drawn in so much detail and she showed how much fun Shorebirds games are," Kathy Damato, Shorebirds Community Relations Manager, said. "We look forward to rewarding all the kids who go through with the Hit the Books program by hosting them at a Shorebirds game this spring."
The initiative, which is one of the biggest and longest-running reading programs in the region, officially kicked off on Tuesday, Jan. 17 and will run through Feb. 24.
"Reading is a great pastime of mine and it means a lot to me. The Hit the Books program does a great job of showing these children how important reading really is ," Dr. James M. Crouse said. "Our partnership with the Shorebirds Hit the Books program is a perfect fit for us at The Brace Place."
Participating schools will be notified in March about their game date at Arthur W. Perdue Stadium in 2018, and students will be honored as part of a pregame parade around the field. For more information, contact the Delmarva
Shorebirds at 410-219-3112.
Season ticket and group outing packages are currently on sale for the 2018 season. The Shorebirds offer full season tickets, half season tickets, a 22-game plan and a 12-game plan along with a number of opportunities for groups to enjoy a night out at the ballpark. To secure your seat(s), call 410-219-3112.
This story was not subject to the approval of the National Association of Professional Baseball Leagues or its clubs.