Club Participates in 3rd Annual UMPS CARE Charities Online Auction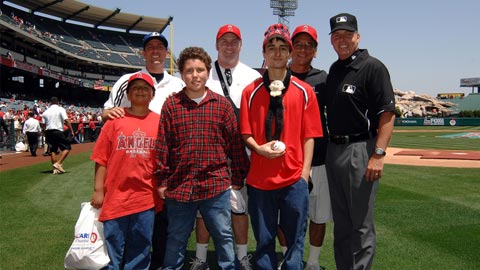 New York, NY- The Staten Island Yankees are among the more than seventy Minor League Baseball (MiLB) clubs participating in the 3rd Annual UMPS CARE Charities Online Auction. Fans can win luxury suites and blocks of 24 tickets at an incredible savings from 66% to 85% off of the retail value or gate price.
The 12-day online auction, with more than 200 items, is currently underway and closes Sunday, March 20. Sports fans can visit and win items at: www.biddingforgood.com/UmpsCare.
Proceeds from the online auction help to provide Major League Baseball experiences for children awaiting adoption, Build-A-Bear Workshop® experiences for children with cancer, and college scholarships for young adults who were adopted as children.
"Bidding is a win-win for everyone involved and we are overwhelmed by the support offered by Minor League Baseball and its member clubs", said Tim Timmons, MLB umpire and UMPS CARE Charities Board Director. "Baseball fans win luxury suites and tickets at a discount, ball clubs showcase community involvement, and children awaiting adoption are treated to a special day at the ballpark as they wait for a forever home to call their own."
In addition to MiLB suites and tickets, the auction also includes 2011 MLB All-Star Game tickets, the chance to watch batting practice from the field at a variety of MLB stadiums, Green Monster seats for a Red Sox-Yankees game, the chance to go behind-the-scenes at ESPN Baseball Tonight or play golf with ESPN's Scott Van Pelt, 2-night hotel with ticket packages, dinner with financial guru Guy Adami after a taping of CNBC's hit show Fast Money, a Pinehurst Resort Golf Experience with PGA Teaching Pro Dan Kochevar, memorabilia signed by President Obama and both Presidents Bush, and a selection of signed golf and football memorabilia.
Special "Bid for a Buck" auctions, contests, and giveaways will be announced via Twitter and Facebook throughout the 12-day event. Items starting at one dollar and available for a day or less will include game tickets, sportswear, memorabilia, and gift certificates. Follow UMPS CARE Charities on Twitter and Facebook for "Bid for a Buck" details.
Of course the real winners are the children served by the men in blue of UMPS CARE Charities. UMPS CARE Charities is a 501(c)(3) non-profit established by MLB umpires to provide financial, in-kind and emotional support for America's youth and families in need. Since 2006, umpires have provided memorable baseball experiences for more than 4,000 children awaiting adoption and at-risk youth in mentoring programs. They have also hosted more than 50 children's hospital events to provide Build-A-Bear Workshop experiences for children with cancer and other serious illnesses. Learn more at UmpsCare.com.
This article originally appeared on the official website of the Island Yankees. Click here to view the original story.