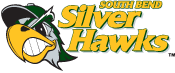 Sunday, August 17th is Fallen Heroes Day at Four Winds Field presented by Midland Engineering. Each year your Silver Hawks pay tribute to police, fire and EMS workers for their extraordinary community service. Tickets to Sunday's game are buy one get one free for police, fire and EMS workers. Must present an ID or badge at the Four Winds Field Box Office to purchase tickets.
In addition to recognizing all local responders, one Silver Hawks' player will also be honored with the Corporal Paul Deguch Community Service Award for the 14th year. The award is named after Paul Deguch, a former South Bend police officer, killed in the line of duty in 1997. The Silver Hawks' player who demonstrated outstanding community service throughout the course of the season will be presented with the award during pre-game activities on Sunday.
The South Bend Silver Hawks are a Class A minor league team affiliated with the Arizona Diamondbacks. The team is owned and operated by Swing-Batter-Swing, LLC whose sole shareholder is Andrew T. Berlin of Chicago, IL.
This article originally appeared on the official website of the South Bend Silver Hawks. Click here to view the original story.