Here is a link to the original story on the team's website.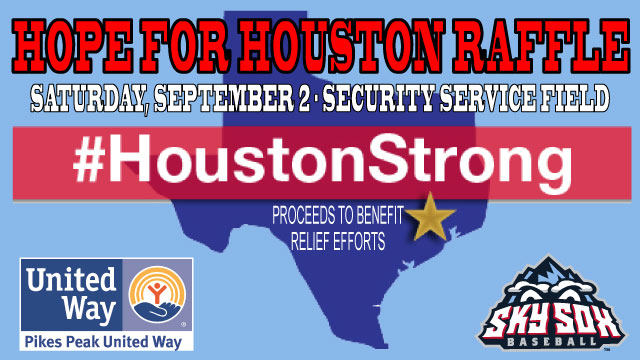 The Colorado Springs Sky Sox, in partnership with Pikes Peak United Way, have announced a 'Hope for Houston' raffle which will take place on Saturday, September 2, during the team's 6:00pm MDT game against the Memphis Redbirds at Security Service Field.
With the help of our corporate partners, Sky Sox players and staff, the organization will raffle off various items throughout Saturday's game as well as donating 100% of the proceeds from Saturday's 50-50 Raffle. Raffle tickets will be available throughout the ballpark and items will include but are not limited to:
Team autograph base, glove, jersey and bat
Sky Sox playoff pack which includes 2 tickets to each game, 2 Sky Sox playoff t-shirts and VIP parking
4-pack of tickets to Elitch Gardens
Cheyenne Mountain Resort Stay & Play Package inlcudes choice of spa treatment or a round of golf for 2
4 Champions Club tickets to the September 11th Denver Broncos game vs. Los Angeles Chargers (includes pre-game on field passes)
4 Luxury Suite tickets to a 2018 Colorado Avalanche game (date TBD)
Pueblo Motor Sports VIP experience
50-50 Raffle Cash Prize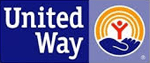 "With eastern Texas and the Gulf Coast region in turmoil following the devastation of Hurricane Harvey, the Sky Sox organization, Minor League Baseball and the country as a whole are searching for ways to provide help to those in need," said Tony Ensor, Sky Sox President & General Manager. "In conjunction with Pikes Peak United Way, we're proud to do our part by raising funds through our Hope for Houston raffle at Security Service Field on Saturday. With the help and generosity of the Colorado Springs community, we can make a difference for those affected by this devastating storm. Thank you to our fans and corporate partners as well as the Sky Sox players and staff for their contributions to this humanitarian effort. Together we can help bring hope to Houston and the surrounding coastal regions."
"Giving financially is one of the best ways to help right now," said Cindy Aubrey, Pikes Peak United Way President and CEO. "We're thankful for the opportunity partner with Sky Sox to help victims of Hurricane Harvey. Houston needs us now and we will do all that we can."
Gates will open for Saturday's game at 5:00pm MDT. Fans can purchase raffle tickets at various marked locations throughout the ballpark. Saturday's game also features the largest fireworks show of the season as part of Sky Fest 2017: Justice League. For more information, please call the Sky Sox at 719-597-1449.
About Pikes Peak United Way
Pikes Peak United Way works to advance the common good, creating opportunities for a better life for all by focusing on the three key quality of life building blocks – education, income and health. Pikes Peak United Way creates long-lasting community change by addressing the underlying causes that prevent progress in these areas. For more information about Pikes Peak United Way, please visit ppunitedway.org.
The Sky Sox are the 2017 Pacific Coast League American North Division Champions and will be making their first postseason appearance in 20 years. To purchase playoff tickets, visit skysox.com or call 719-591-SOXX. For the latest Sky Sox news, go online to www.skysox.com, like us on Facebook or follow the team on Twitter at @skysox.
This story was not subject to the approval of the National Association of Professional Baseball Leagues or its clubs.