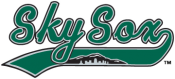 The Colorado Springs Sky Sox are proud to announce today a new partnership with Domino's pizza that will showcase local charities. The new joint venture has been named the "Charity Spotlight" and is designed to help charities in the Colorado Springs area. In the current economic environment, many charities are working harder than ever to meet budgets to support the ever increasing demand for their services.  Domino's wants to provide these charities with an opportunity to market themselves and raise awareness for their causes at Security Service Field during the Sky Sox 2013 season free of charge.
Through their partnership with the Sky Sox during the 2013 baseball season, Domino's will provide charities in Colorado Springs the opportunity to market themselves through the "Charity Spotlight" at one of 35 Sky Sox home games. The selected charities for the game will receive a tremendous marketing package provided free of charge by Domino's that includes:
A marketing table in the main concourse to showcase their organization
Four tickets to the game and VIP Parking
Public address announcement and live in-game scoreboard recognition
A ceremonial first pitch
On-air charity recognition during the Sky Sox broadcast on AM 1300 "The Animal"
Any charity wishing to be considered for the "Charity Spotlight" can apply online at www.skysox.com where a nomination form will be posted. Members of the community can nominate their own charity or someone else's.
"We understand that times are extremely tough and many charities are dealing with diminished budgets", said Domino's Franchisee Craig Williams. "At Domino's, we recognize the importance of the many charities here in Colorado Springs and we are exceptionally proud to team up with the Colorado Springs Sky Sox to spotlight local non-profits while providing them with a night of fun they will never forget."
"The Sky Sox are honored to partner with Domino's to provide this excellent program", said Sky Sox President and General Manager Tony Ensor. "These charities are an integral part of Colorado Springs and we are proud to lend a helping hand in this effort."
For more information please contact Alyce Bofferding at (719) 304-5625 or through e-mail at abofferding@skysox.com.
Click here for the nomination form
This article originally appeared on the official website of the Colorado Springs Sky Sox. Click here to view the original story.