Here is a link to the original story on the team's website.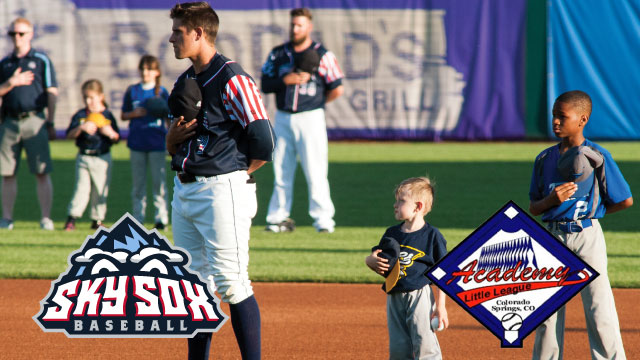 The Sky Sox have announced that they will host the Academy Little League Opening Day Ceremony at Security Service Field to begin their 2017 baseball season.
"The Sky Sox are excited to host Academy Little League's Opening Day Ceremony at Security Service Field in 2017," said Sky Sox President & General Manager Tony Ensor. "Each Sky Sox player began their career in youth baseball and as a proud community partner we're thrilled to support one of the gems of our city in Academy Little League while providing these children with the memory of a lifetime as they celebrate the start of their season on a professional baseball field."
Located at the base of the Rocky Mountains along the Rampart Range, Academy Little League serves the northern communities of Colorado Springs, Colorado. Originally formed in 1995 with approximately 200 players, they now average approximately 62 teams and over 500 players annually. The league name was adopted in recognition of their proximity to the United States Air Force Academy, which is included in their boundary. The league's logo is red/white/blue and depicts the Academy's most famous landmark, the Cadet Chapel.
"Academy Little League has always had a great relationship with the Sky Sox organization, enjoying our annual Sky Sox Day at the Park," said Tamee Lashlee, President of Academy Little League. "After losing our home fields, we were thrilled when Sky Sox management reached out to us during our planning session last year, offering to host our Opening Day ceremonies. Opening Day is such a special day for our 500 kids and their families and holding it at the Sky Sox stadium really pumped up the excitement! We are so pleased that Sky Sox have once again offered to host our Opening Day ceremonies this spring. As the league works hard to fundraise and look to the future for new fields, community support from organizations such as the Sky Sox, allows kids to just be kids and focus on what they love, playing ball. We couldn't be more grateful!"
The festivities will include the introduction of each individual team in a pre-game on-field ceremony, a special honor guard presentation, recognition of the league's All-Star teams and the national anthem.
The 30th season of Sky Sox Baseball begins April 6, 2017. For information about the Sky Sox and the 2017 season at Security Service Field, please call (719) 597-1449 or email info@skysox.com. Get the latest Sky Sox news on Facebook or follow the team on Twitter at @skysox.
This story was not subject to the approval of the National Association of Professional Baseball Leagues or its clubs.