Programs expected to reach over 15,000 Central PA school children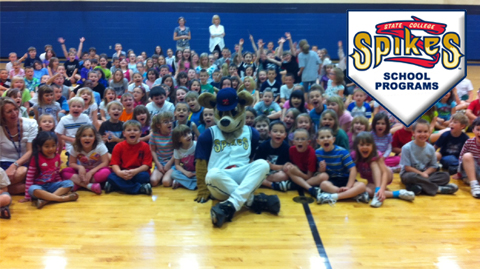 The State College Spikes have announced the team's roster of 2013 school programs. Each program has a unique theme and focus, but the common goal is to use the fun Spikes brand to supplement classroom curriculum in the areas of reading, writing, exercising, eating healthy and living an eco-friendly lifestyle.
Most programs are supplemented by school assemblies involving mascots, players and front office staff, and all programs offer K-8 students the opportunity to earn free tickets and experiences at Spikes home games upon completion of fun program tasks. Last year, the Spikes reached over 15,000 Central PA school children in Centre, Clearfield, Clinton, Huntingdon, Mifflin and Juniata Counties.
Below are capsules of the Spikes 2013 school programs:
Healthy Home Runs presented by Mount Nittany Health
The Spikes and Mount Nittany Health are offering this school program, which is designed to promote a healthy lifestyle through nutrition and physical activity. Ike the Spike and representatives from Mount Nittany Health will visit schools to hold a kick-off assembly (which can be held outside or inside). During the assembly, K-6 students will be educated on the importance exercise and nutrition before having the opportunity to take "Ike's Fun Fit Challenge." Students who complete the simple and fun physical fitness challenge will be rewarded with one complimentary Bullpen Box ticket and an on-field recognition ceremony during the Spikes' Healthy Home Runs Day at Medlar Field at Lubrano Park on Saturday, August 3, 2013.
Project I.K.E presented by Centre County Recycling and Refuse Authority
Project I.K.E. is a collaboration between the Spikes and Centre County Recycling and Refuse Authority teaching children about the importance of "going green" and incorporating eco-friendly practices in their daily lives. The acronym in the program title stands for "Inspiring Kids to be Eco-Friendly" and targets children in grades K-8. The Spikes, Ike the Spike and a representative from the Centre County Recycling and Refuse Authority will host educational school assembly visits for each participating school. Project I.K.E. also offers complimentary tours of Medlar Field at Lubrano Park, which demonstrates how the Spikes recycle and go green in the world's first LEED Certified (Leadership in Energy and Environmental Design) ballpark. As part of the program, students will be given an educational packet to complete, which can be redeemed for one complimentary Bullpen Box Ticket to a 2013 Spikes home game.
Spikes Student All-Star Program presented by Chick-fil-A and PSEA
In partnership with Chick-fil-A and the Pennsylvania State Education Association (PSEA), the Spikes Student All-Stars program provides K-8 teachers around the region with a tool to reward students with free tickets to a Spikes game based on whatever criteria the teacher would like to establish in his/her own classroom. Each teacher within the Spikes geographic region receives six (6) forms to distribute to students. The program encourages teachers to incentivize students based on excellence in a subject, dramatic improvement in a subject, or by showing classroom leadership. Any student chosen will be provided with a free ticket to one of three pre-determined 2013 Spikes home games (July 7, August 4 and August 25), and will be honored as part of a special pre-game, on-field recognition ceremony.
Books and Baseball Program presented by National Penn Bank
The Spikes and National Penn Bank have partnered for the Books and Baseball reading program for the 2013 season. This program encourages students to complete a reading program by rewarding them with free Spikes tickets upon completion. Participating students will receive a special bookmark to keep track of the books they read. Any participating student that reads four books under the supervision of their teacher or parent will earn one free ticket for a designated Books and Baseball game during the 2013 season (July 6, July 27 and August 24). At those games, participants will be honored from the field for their participation and completion of the programs. The program includes a free assembly and reading presentation with the National Penn Bank Nook Monster at any of the participating schools. Books and Baseball is designed for students in grades K-8.
Spikes Essay Contest
The Spikes Essay Contest is for K-8 students to creatively share their experiences and thoughts about the State College Spikes through pictures or essays. The contest is divided into three different grade levels: K-1, 2-4 and 5-8. Students in kindergarten through first grade are encouraged to include drawings along with one sentence for the theme "If I were Ike the Spike." The second to fourth grade group will be asked to write a short essay entitled "If I coached the Spikes." Fifth to eighth graders will be encouraged to write a 300 or less word essay entitled "If I could create a new food item for the Spikes, it would be (blank)." A winning essay will be chosen in each of the three age groups and those winners will earn tickets to a 2013 Spikes home game for their entire grade. The submission deadline for the Spikes Essay Contest is June 1.
There is no cost for school to participate in any 2013 Spikes school program. Teachers or administrators interested in participating in any of the State College Spikes school programs can contact Spikes Community Relations Manager David Wells at 814-272-1711 ext. 331 or dwells@statecollegespikes.com.
The Spikes, the Class-A Short-Season affiliate of the St. Louis Cardinals, will open the club's eighth season on Monday, June 17 at Medlar Field at Lubrano Park against the rival Williamsport Crosscutters (Philadelphia Phillies). The Spikes will be home for 38 regular season home dates between June 17 and August 30. Single-game tickets for the upcoming 2013 season will go on sale to the public starting Friday, April 26 at 4 p.m. Season Tickets, Value Plans, McDonald's Flex Books and an array of group and corporate hospitality options are currently available and can be reserved by calling (814) 272-1711. All Spikes ticket options can be viewed at State College Spikes.com.
This article originally appeared on the official website of the State College Spikes. Click here to view the original story.