Shorebirds award school $1,000
The Shorebirds Community Fund and Sherman paid a visit to South Dorchester School in Church Creek Maryland to award them a check for $1,000. South Dorchester School was one of over a 100 schools that participated in the 2013 Hit the Books reading program presented by Dr. James M. Crouse at The Brace Place and came in first place in the ticket redemption contest.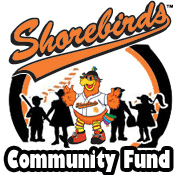 Congratulations to all the students, their parents and faculty members of South Dorchester School for a job well done.