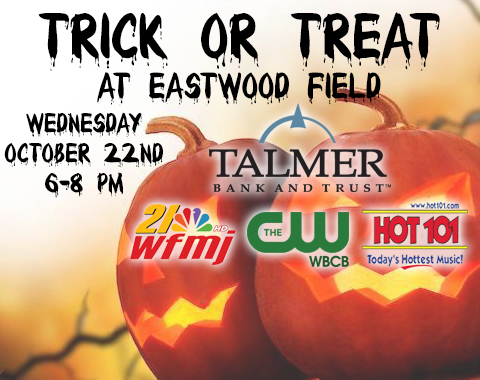 The Scrappers and Talmer Bank and Trust present the sixteenth annual "Trick or Treat" at Eastwood Field, with media partners 21 WFMJ, WBCB, and Hot 101. The event will take place Wednesday, October 22nd from 6:00pm to 8:00pm. "Trick or Treat" at Eastwood Field is a fun and safe way to celebrate Halloween for children age 12 and under. Ticket quantities are limited and are available on a first come first served basis. Children and adults will require a ticket. Tickets are just $1 each and are available starting Monday, September 29th at the Scrappers Team Office located at Eastwood Field. In addition, anyone that donates canned goods at the "Trick or Treat" event for Project Feed Our Valley will receive a free general admission Scrappers ticket valid during the 2015 season.

The Scrappers are looking for area businesses to participate in this year's "Trick or Treat" event. Businesses will receive table space on the Eastwood Field concourse. This is a community event and a great way to promote your business to the public. Early reservations are encouraged as space is limited. Please contact Annie Stoltenberg for complete details by calling 330-505-0000 or emailing astoltenberg@mvscrappers.com.
This article originally appeared on the official website of the Mahoning Valley Scrappers. Click here to view the original story.