Here is a link to the original story on the team's website.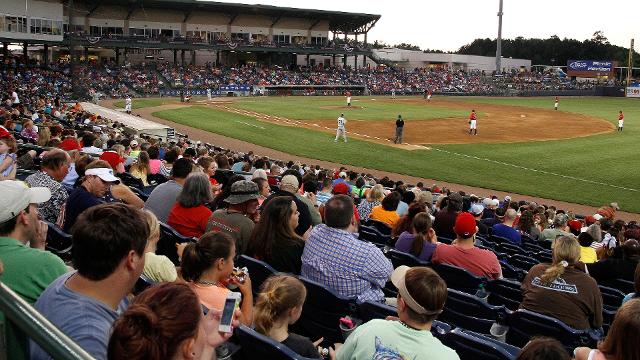 PEARL, MS – The Mississippi Braves have announced plans for a smoke-free Trustmark Park in 2018.
This initiative will be implemented with the support of Merit Health and The Mississippi Tobacco Quitline.
The smoke-free policy will prohibit smoking in the ballpark, including electronic devices and will apply to all Mississippi Braves staff, players and fans.
Trustmark Park becoming a smoke-free ballpark is part of a movement by the M-Braves to help exemplify a healthy environment and create a positive model for our youth to follow.
If you find you are ready to quit smoking, help is available. Merit Health and the MS Tobacco Quitline can provide resources to assist anyone that is ready to stop using tobacco.
Merit Health, a network of 9 hospitals and over 25 primary care clinics throughout the state of Mississippi, can provide medical assistance for smoking cessation. To schedule an appointment with a primary care provider near you, call 844-MSMERIT.
The Mississippi Tobacco Quitline is a telephone & online support service for any Mississippian who is ready to quit tobacco. If you or a friend or family member is ready to stop using tobacco, the Tobacco Quitline staff is available to help. Many Mississippians have contacted the Tobacco Quitline to take advantage of professional help to learn to be tobacco free. Information, referrals, and support are confidential, and support sessions are designed on a schedule that is convenient to the caller. You can reach the MS Tobacco Quitline at 1-800-784-8669 (1-800-QUITNOW). Services are free of charge.
The Mississippi Braves are the Double-A affiliate of the Atlanta Braves and will open their 14th season on Thursday, April 5 against the Tennessee Smokies at Trustmark Park. Since the inaugural 2005 season, over 125 M-Braves have gone on to Major League Baseball. The M-Braves have made postseason play four times and went on to win the Southern League Championship in 2008. Stop by Trustmark Park or call 888-BRAVES4 Monday through Friday, 9:00 am to 5:00 pm. For the latest news and updates, visit mississippibraves.com or connect with @mbraves on Facebook, Twitter, and Instagram.
This story was not subject to the approval of the National Association of Professional Baseball Leagues or its clubs.