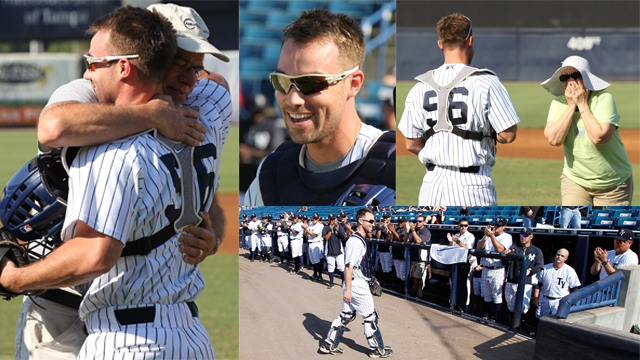 Prior to their 5:00p.m. game vs. Jupiter, the Tampa Yankees were honored to welcome home Lieutenant Matthew Pelletier.
Joe Pelletier, the father of Lieutenant Pelletier, thought he was visiting Steinbrenner Field and throwing out the game's first pitch as a potential Tampa Yankees sponsor with his company, AmeriLife. He had no idea he was about to see his son, who was on the receiving end of the pitch and dressed in a full Tampa Yankees uniform, complete with catcher's gear.
Lieutenant Pelletier had not seen his father since August 2013, before deploying for the U.S. Army.
The Tampa Yankees are the Single-A Advanced Affiliate of the New York Yankees. For more information about the Tampa Yankees call (813) 673-3055 or visit www.tybaseball.com.
This article originally appeared on the official website of the Tampa Yankees. Click here to view the original story.