Campouts & Clinic Offer Kids Exclusive On-Field Experience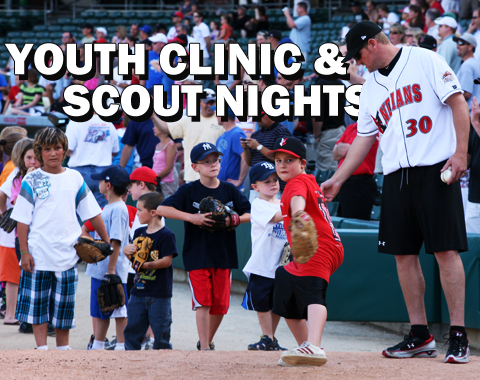 INDIANAPOLIS — The Indianapolis Indians are proud to announce the return of the annual Youth Baseball Clinic as well as Boy and Girl Scout overnight Campouts for the 2013 season.
Troops, dens and packs can pack Victory Field for a full night of exciting activities during the Tribe's Boy and Girl Scouts overnight Campout events. The fun begins with the regularly scheduled Indians game, followed by a fantastic fireworks show. Campout participants can remain in the ballpark after the game and are treated to popcorn and a movie on the videoboard. Scout groups will also have the opportunity to take to the Tribe's outfield to set up their tents for the evening, with the grand event being capped off by breakfast on Saturday morning.
Overnight Boy Scout Campouts are set for Friday, June 7 when the Indians take on the Durham Bulls at 7:15 p.m., and Friday, June 28, as the Tribe battles the Rochester Red Wings at 7:15 p.m. The Girl Scout Campout is scheduled Friday, June 21 immediately following the 7:15 p.m. contest between the Tribe and the Charlotte Knights.
Reservations for the Boy and Girl Scout Campouts, which historically sell out, can be made by clicking Scout Events or calling the Victory Field Box Office at (317) 269-3545.
The 2013 Youth Baseball Clinic will also offer fans an exclusive on-field experience as participants will receive one-on-one instruction from the Indianapolis Indians' coaches and players. The clinic, which is set for Thursday, June 6 at 5:00 p.m., includes several skills stations which will focus on various throwing, fielding and pitching drills. All kids ages 14 and under may participate in the event and admission is included with the purchase of a single-game ticket to Thursday night's game between Indianapolis and the Durham Bulls.
Individuals interested in participating in the 2013 Youth Baseball Clinic are not required to register for the event, and only need to buy a June 6 game ticket and arrive at Victory Field by 5:00 p.m. Groups of 25 or more patrons will receive a $3 discount off the ticket price, and those with 100 or more participants will be granted $4 off game-day admission.  To book a group outing for the 2013 Youth Baseball Clinic fans can call the Victory Field Box Office at (317) 269-3545.
This article originally appeared on the official website of the Indianapolis Indians. Click here to view the original story.