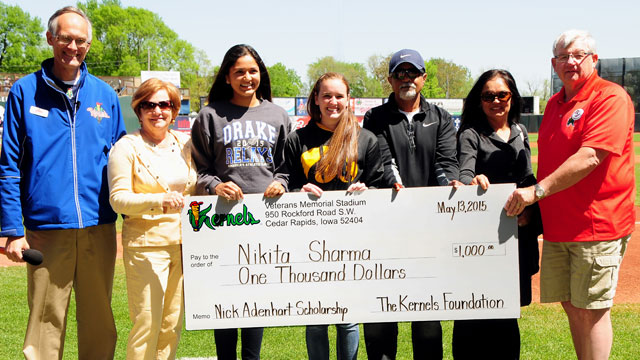 Cedar Rapids, IA – The Cedar Rapids Kernels and Kernels Foundation are pleased to announce Niki Sharma as the winner of the 2015 Nick Adenhart Memorial Scholarship. She was recognized in an on-field ceremony before the Kernels game with Peoria on Wednesday, May 13th.
Niki is a member of the Class of 2015 at Linn-Mar High School where her school activities, academic accomplishments and accomplishments in basketball and track were quite impressive, making her an excellent choice for the scholarship. Claire plans on attending Washington University in St. Louis as a pre-med student.
Nick Adenhart was a bright young pitcher who played for the Cedar Rapids Kernels in 2006, and was a rising star in the Los Angeles Angels organization. Only hours after Nick's 2009 season debut on the mound for the Angels, a drunk driver tragically killed him on April 9, 2009 at age 22.
Nick's family continues to honor him with the awarding of a $1,000 scholarship in his memory. The Kernels Foundation is privileged to administer the scholarship on behalf of Nick's family.
The Kernels continue a seven game home stand on Thursday, May 14th with a 6:35 PM game against the Peoria Chiefs, the Midwest League affiliate of the St. Louis Cardinals. The current home stand continues through Sunday, May 17th.
Fans can enjoy all the action with Morgan Hawk on the radio home of Kernels baseball, 1450 KMRY AM, 93.1 KMRY FM, or listen on-line at www.kmryradio.com, or www.kernels.com.
Tickets may be purchased on-line at www.kernels.com, or by calling the Kernels Ticket Office at 896-7560. Ticket office hours are 10 am to 5 pm, Monday through Friday, and 10 am to 2 pm on Saturday.
This article originally appeared on the official website of the Cedar Rapids Kernels. Click here to view the original story.