Sixers Alongside Rotolo Chevrolet Give Local School Students the Chance to Earn Money for Their Classroom Through No-Cost Reading Program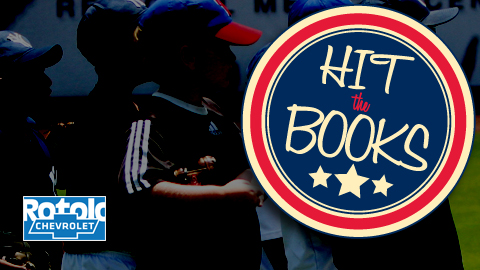 San Bernardino, CA– The Inland Empire 66ers are on a mission to visit area elementary schools in the upcoming months to promote the importance of reading, through their Hit the Books Reading Program presented by Rotolo Chevrolet. The organization's community relations team, alongside lovable mascot Bernie, will hold assemblies at participating schools which will culminate in each student receiving a baseball themed bookmark. When the student reaches the reading requirement, they will earn two free tickets to a selected 66ers game.
66ers Community Groups Manager, Kelsey Beckenbach stated, "We realize the importance of touching these students lives in a positive aspect. It's a very special treat for Bernie and 66ers staff members to come to their school just for them. Kids hold on to those memories for a long time and we hope that it'll further their interest in reading beyond finishing the bookmark."
Mike Caposio, General Manager of Rotolo Chevrolet noted of their sponsorship, "We here at Rotolo Chevrolet always strive to be involved in the community and what better way to be involved than by helping to promote the importance of reading."
The selected 66ers games in which the students will be invited are the first four Sundays of the 2013 season (April 7, April 21, May 12 and May 19). Three monetary donations will be made to the schools with the highest representation throughout the four days. The school with the most students and teachers attending these games will receive a donation of $1,500. The two schools in second and third will receive a donation of $1,000 each. For more information on the Inland Empire 66ers 2013 education initiatives, contact Kelsey Beckenbach at 909-495-7658.
The 2013 season will kick off on Thursday April 4, 2013 at San Manuel Stadium when the 66ers take on the Modesto Nuts. Inland Empire fans can now purchase season ticket and group packages for the 2013 season. Tickets can be purchased by calling 909-888-9922. Additional information is available online at www.66ers.com. For more information on the Inland Empire 66ers please contact Joey Seymour, Director of Ticket Operations and Media Relations, at 909-495-7638.
This article originally appeared on the official website of the Inland Empire 66ers. Click here to view the original story.