Here is a link to the original story on the team's website.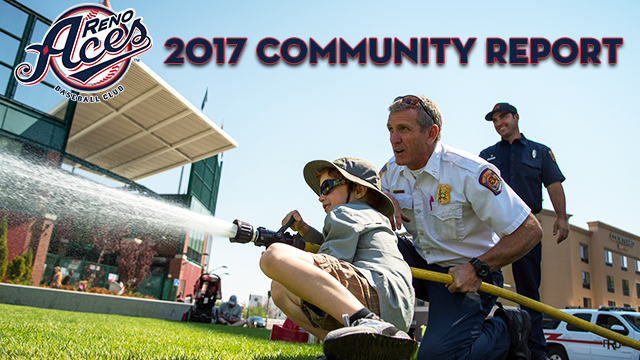 RENO, Nev. – Since the Reno Aces Baseball Club's inception in 2009, the club has maintained a dedicated focus on making a positive impact in Reno and the surrounding Northern Nevada region. The Aces posted record-breaking charitable donations in 2017, thanks to overwhelming support from Aces fans and the community.
"In return to our great fans and wonderful community, we strive to impact Reno and Northern Nevada through a variety of programs and charitable donations," said Reno Aces and Reno 1868 FC president Eric Edelstein. "Our vision builds on making Greater Nevada Field more than just a sporting venue, but a center for community empowerment and celebration."
The Aces and their staff focused on four key components to the club's overall community impact: baseball development, community events at Greater Nevada Field, community outreach and in-game fundraising and awareness.
BASEBALL DEVELOPMENT
In 2017, the Aces showed their continued support to baseball at all levels locally by hosting youth baseball fundraising programs and high school games at Greater Nevada Field.
$15,000: The Reno Aces and University of Nevada Baseball team played its annual exhibition game prior to the first game of the season. This game provides not only an opportunity for our players to get back in the game, but gives Nevada Baseball the experience of playing on a professional field and a fundraising source. A portion of the proceeds from ticket sales of that night's game are donated to the Nevada Dugout Club. This season, the Reno Aces donated $15,000.
Youth Baseball & Softball Days: The Reno Aces partnered with multiple Northern Nevada and California Little League and softball leagues to provide on-field inspiration and once-in-a-lifetime experiences through Reno Aces Youth Baseball and Softball Days. Youth teams attend a Reno Aces game, parade around the field pre-game and have their team's name announced by the PA announcer for all of those in attendance to hear. In addition, the Reno Aces staff and mascot, Archie, attend each leagues' opening ceremonies and bring baseball into more communities.
$54,000: For the past nine seasons, the Aces invited local high schools to play regular-season games at Greater Nevada Field. To participate in the program, high schools committed to purchasing 500 tickets (good for any Aces regular season home game) to sell to local community supporters, with the proceeds benefiting their respective school's athletic program. Twelve high school baseball programs participated in 2017, and a total of 4,500 tickets were sold, equating to $54,000 in donations.
COMMUNITY EVENTS AT GREATER NEVADA FIELD
In 2017, the Aces and Greater Nevada Field hosted multiple programs and events, ranging from the Biggest Little Startup Fair to Trick-or-Suite prior to Halloween. A few major events are highlighted below:
30: Biggest Little Startup Fair, benefiting the Northern Nevada Community – Greater Nevada Field hosted the Biggest Little Startup Fair for a fourth consecutive year. The fair is a cooperative effort between 30 Reno startup companies, the Economic Development Authority of Western Nevada, the University of Nevada and Truckee Meadows Community College. Students from across Northern Nevada were given the opportunity to meet potential employers and find out about volunteer opportunities, internships and job openings.
City of Reno Stuff-A-Buss- In 2017, Greater Nevada Field again hosted the City of Reno Stuff-A-Buss event to benefit local senior citizens in need. The Regional Transportation System parks a bus in front of Greater Nevada Field from 4:00 p.m. to 7:00 p.m. in an effort to "stuff the buss" with new and unused items. Upon donation, those who donated received free Aces tickets or free skate rental to the Reno Ice Rink.
Trick-or-Suite, benefiting the Food Bank of Northern Nevada – The Reno Aces and Greater Nevada Field hosted the fifth annual Trick-or-Suite event to provide a safe trick-or-treating environment for children in the Northern Nevada community. Aces community partners assisted in decorating the NVision Glass Suite Level and passed out candy to local children. Attendees donated a total of $972, an increase of 77% from 2016, and over 1,100 pounds of canned and boxed food equating to 1,948 meals.
COMMUNITY OUTREACH
The Aces heightened focus on community outreach paid dividends in 2017.
2017 monetary donations: $36,075.00
Archie's Kids Club – Since the inaugural season, the Aces have provided Archie's Kids Club to Aces fans between the ages of 3 and 12. For the third consecutive season, Kids Club has been free to these fan to provide as many individuals as possible the gift of Aces Baseball including: Access to the lovable Aces mascot, Archie continued education of the game of baseball, a t-shirt, exclusive Kids Club event invites, personal e-mails from Archie and much more. In 2017, over 1,100 young Aces fans participated in Kids Club.
Nevada Humane Society – In the fall of 2014, the Aces fostered Princess, a pit bull from the Nevada Humane Society, in effort to get her adopted and begin the organization's goal to be ambassadors for not only pit bulls, but all animals in need of a home. After five months of no potential adopters, the organization officially adopted Princess and crowned her the "Princess of the Field." This year, the Reno Aces continued to sell Princess Plush toys in the Team Shop. Overall, over 150 Princess Plush Toys were sold and approximately $3,200 will be donated to the Humane Society.
In-Kind Donations/Donation Requests- Throughout the year, the Reno Aces donated tickets, memorabilia, mascot appearances, merchandise and ice skating admissions to as many organizations in the Northern Nevada and California communities as possible. Donated items are used for members of those organizations to raise funds for their cause, provide awards and spread the love of baseball. The Aces donated to 650 organizations, totaling over $182,818.
 IN-GAME FUNDRAISING AND AWARENESS
The Aces hit a home run with their in-game fundraising and awareness in 2017, with fundraising totals reaching $87,353.00.
Saint Mary's Home Run For Life – In 2017, Saint Mary's Home Run for Life returned for a fifth consecutive season. Once a month, a brave individual in the Northern Nevada Community was honored by taking a ceremonial trip around the bases with each team lining the baselines. The ceremony symbolizes the end of a battle against adversity. Individuals honored had overcome a significant medical event in their life with the help of their families, physicians and healthcare professionals. Five individuals were honored during the 2017 season.
Non-Profit Ticket Fundraising Program Presented by Greater Nevada Credit Union – The Non-Profit ticket Fundraising Program presented by GNCU returned for the fourth consecutive season, with over 100 organizations participating in 2017. Available to non-profit organizations, schools, sports teams, special causes and community organizations, the Aces provide tickets and fundraising materials for groups to sell game tickets at a value price in the effort to make the attributed organization the most money possible. Groups also receive a variety of benefits to spread awareness about their cause during their game, depending on the number of tickets sold. This season, non-profit organizations raised $77,000.
JAKKS Pacific Home Run for the Holidays,- For the sixth consecutive year, the Reno Aces partnered with JAKKS Pacific, Inc., and Reno 1868 FC to donate toys to help less-fortunate children living in Northern Nevada. This holiday season, 2,000 toys were donated to organizations in the Reno-Sparks/Carson community assisting at risk and in need youth. Since 2011, JAKKS Pacific has donated over 44,500 toys to the Northern Nevada community.
To view the entire 2017 Community Impact Report click the link.
The Aces will begin their 2018 campaign on April 5th against the Fresno Grizzlies at Greater Nevada Field. 2018 Aces ticket packages are on-sale now at www.renoaces.com or by calling (775) 334-4700. Follow the club during the offseason on Twitter (@Aces) or like the team on Facebook.
This story was not subject to the approval of the National Association of Professional Baseball Leagues or its clubs.