Toys will go to Northern Nevada children's charities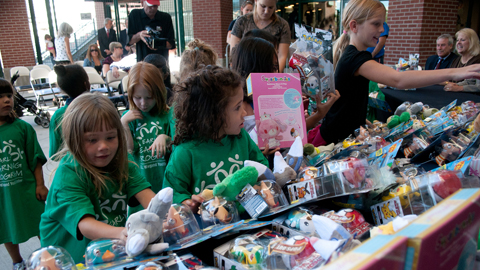 For Immediate Release
Aug. 29, 2012
RENO, Nev.–The Reno Aces Foundation, in partnership with leading US toy company JAKKS Pacific, Inc. (Nasdaq: JAKK) will distribute 15,000 toys over the next month to underprivileged and deserving children throughout Northern Nevada, the Reno Aces Baseball Club announced at a press event this morning.
The toys will be distributed to children through various non-profit organizations in the Reno-Sparks area, including Renown Children's Hospital, Big Brothers Big Sisters of Northern Nevada, Volunteers for America, Boys and Girls Club of Truckee Meadows, Children's Cabinet, Salvation Army and the Committee to Aid Abused Women.
"Through my friendship with Stephen Berman, of JAKKS Pacific, I have come to know he is a very generous and giving person who cares deeply about people," said Herb Simon, owner of the Reno Aces. "We are so grateful to Stephen and JAKKS Pacific for this opportunity to bring some happiness to many deserving children in the community."
US. Foods, one of the nation's leading foodservice distributors, has partnered with the Aces and JAKKS Pacific to aid in the storage, delivery and distribution of the toys.
"Our partnership with Herb Simon and Reno Aces Foundation is a very special one for us," said Stephen Berman, CEO of JAKKS Pacific. "We are thrilled to bring smiles and laughter to thousands of youths in the Reno-Sparks area through this important partnership. We are thankful to the Reno Aces Foundation for the hard work they put into this event and the invaluable services they provide to the community."
The Reno Aces Foundation, the nonprofit division of Northern Nevada's first Triple-A Baseball franchise, seeks to use professional baseball as a vehicle for making a positive impact within the communities that comprise Northern Nevada and the surrounding region. The foundation focuses its efforts on supporting youth and family initiatives. Through providing unique experiences, underwriting unmet expenses and using professional baseball as a channel to accomplish greater goals, the Reno Aces Foundation is dedicated to making a difference in the lives of people throughout the region.
JAKKS Pacific, one of the top five United States toy companies, is a California-based company that has been designing, developing, producing and marketing toys and consumer products for children and adults around the world since 1995. JAKKS Cares is the philanthropic arm of JAKKS Pacific and since inception has donated over $50 million in toys, school supplies and monetary endowments to millions of underprivileged children around the world.
This article originally appeared on the official website of the Reno Aces. Click here to view the original story.