Scholars Program to pay first years of tuition for two at University of Iowa, one at Western Illinois University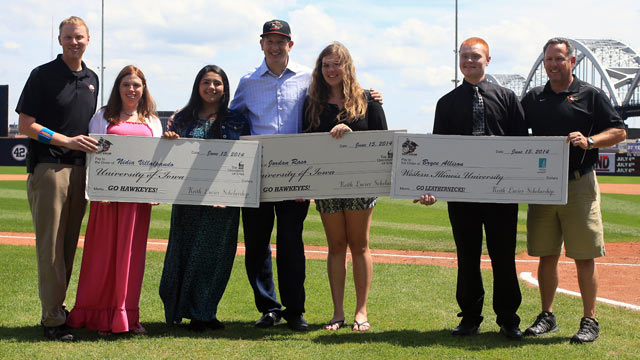 The Quad Cities River Bandits awarded their annual scholarships at their game Sunday afternoon, announcing three winners for the first time in the history of the Bandit Scholars Program. River Bandits owners Dave Heller and Bob Herrfeldt, along with Jennifer Lucier, announced Bryce Allison as the winner of the Bandit Scholarship, Nidia Villalpando as the winner of a second Bandit Scholarship for the University of Iowa, and Jordan Raso as the winner of the Keith Lucier Memorial Scholarship.
Allison, an East Moline native and United Township High School graduate, will attend both Black Hawk College and Western Illinois University through their Linkages Program. Villalpando, a Rock Island native and Rock Island High School graduate, and Raso, a Davenport native and Bettendorf High School graduate, are entering the University of Iowa. Each scholarship ensures the students' first year of tuition will be covered at no expense to them or their families.
"Giving out these scholarships is the single most enjoyable thing I do as owner of the River Bandits, and I am so proud, on behalf of the organization and the Quad Cities community, to present these scholarships to a record three very-deserving recipients," said team owner Dave Heller. "Bryce, Nidia and Jordan have demonstrated incredible talent, hard work, dedication and a passion for community service, and I am confident they will be outstanding representatives of our Bandit Scholars Program and the Quad Cities in their immensely promising futures."
The Bandit Scholars Program was founded in 2009 by the Quad Cities River Bandits' team owners Dave Heller and Bob Herrfeldt; the program pays the entire first year of college tuition for Quad Cities area students through the Keith Lucier Memorial Scholarship and the Bandit Scholarship. The Keith Lucier Memorial Scholarship is named in honor of the late Keith Lucier, who passed away in 2009. The Bandit Scholars Program and, in particular, the Lucier Scholarship, honors Keith's strong belief in higher education and celebrates his love for sports, learning, charitable endeavors and the Quad Cities community. Lucier graduated from Bettendorf High School and the University of Iowa. He was the River Bandits' Assistant General Manager in 2008.
The scholarships are administered by the non-profit Community Foundation of the Great River Bend, and recipients are selected by a committee made up of Lucier's family, friends, River Bandits' staff, CFGRB volunteers and area community leaders. Awarded annually to a Quad Cities area high school senior, each scholarship includes a summer internship with the River Bandits following the winner's first year of college. Tax-free donations to the scholarship fund can be made through the CFGRB web site.
"I am honored to have been selected by the scholarship committee to be part of history within the Bandit Scholars Program," Allison said. "This scholarship will help both me and my family as I continue my education."
Allison hopes to pursue an accounting degree, attending both Black Hawk College and Western Illinois University. He has been involved in National Honor Society, baseball, golf, Link Crew, the Living Lands and Waters XStream Cleanup and Million Trees Project, the River Bandits Fan Club, and the John Deere Classic, among other activities with local organizations.
"This scholarship represents a great honor, and I am grateful to receive it and represent my family," Villalpando said. "This scholarship also demonstrates the hard work required to exceed expectations, and a reminder of what will be necessary to achieve my future goals."
Villalpando hopes to pursue a pre-medical curriculum and biology degree to become a pediatrician. In high school, she has been involved with Student Ambassadors, Student Council, National Honor Society, Key Club, the Spanish and French Clubs, varsity cheerleading, softball, the Quad City Minority Program Partnernship, Trinity Health Academy, and Mini-Medical Academy, while also working at McDonald's as a crew trainer and hospitality ambassador.
"I have enjoyed coming to River Bandits games for years, and it is a thrill to have the River Bandits be part of supporting my future," Raso said. "I am excited to begin paying this forward, applying what I learn, and bringing the benefits of my education back to the Quad Cities."
Raso hopes to pursue a double degree in Business Management and Mass Communication and Journalism. In high school, she has been involved in Raising Student Voice and Participation, the student newspaper and yearbook, drama club, Thespian Society, choir, and National Honor Society, and she volunteered in several school and community projects, performances and events.
The scholarships are funded by fan donations and fund-raising efforts by the River Bandits and the team's ownership. Fundraising events include the annual Frost Fest, Bandits Race to Home 5K and Bandit Scholars Home Run Derby, set for July 26-27 this season. Through the partnership with the Community Foundation of the Great River Bend, donors can make online, tax-deductible donations to the Bandit Scholars Program by going to www.cfgrb.org. Fans can also visit the Bandit Scholars Program page on the team's website, www.riverbandits.com, and follow a link to the Bandit Scholars page on the Foundation's website. Beginning with the next scholarship application cycle in 2015, students from eight Quad Cities-area counties – Henry, Mercer, Rock Island and Whiteside Counties of Illinois, and Cedar, Louisa, Muscatine and Scott Counties of Iowa – will be eligible for the scholarships.
This article originally appeared on the official website of the Quad Cities River Bandits. Click here to view the original story.