More than 600 participants get unique experience of finishing at home plate inside Modern Woodmen Park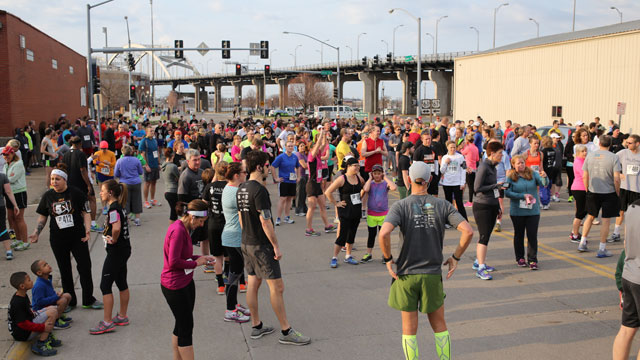 More than 600 runners and walkers competed in the second annual Bandits Race to Home 5K and Fun Run presented by Palmer Chiropractic Clinics and finishing inside Modern Woodmen Park on Saturday morning, helping raise more than $13,000 toward the Bandit Scholars Program.
Participation doubled from the inaugural race of 2013, and funds raised increased by 160% for the Bandit Scholars Program, which annually awards the Bandit Scholarships. Each scholarship pays the entire first-year college tuition for two Quad Cities-area students.
"We want to thank the people of the Quad Cities for embracing the annual Bandits Race to Home 5K with outstanding participation and support of the Bandit Scholars Program," said River Bandits owner Dave Heller. "All of the participants, volunteers, staff and spectators made this year's Bandits Race to Home 5K a memorable and unique community event to celebrate the Quad Cities and the start of another fun-filled season at Modern Woodmen Park!"
The fastest male and female finishers in each of the 10 age groups – 19 & under, 20-24, 25-29, 30-34, 35-39, 40-44, 45-49, 50-54, 55-59 and 60-plus – were awarded trophies courtesy of Crown Trophy, while the second and third place finishers received medals. Additionally, the top three male and female runners were awarded with trophies.
Below is a full list of the winners in their respective age group.


The Bandits Race to Home 5K began on River Drive and Gaines Street in downtown Davenport, Iowa, crossed the Centennial Bridge to Rock Island, Ill., headed over to the Rock Island Arsenal, then back across the Arsenal Bridge before finishing at home plate inside Modern Woodmen Park.
The Fun Run featured young contestants racing the River Bandits' mascot Rascal from outside the left field wall of the stadium and finishing just inside the gate of Modern Woodmen Park. Each contestant was awarded a Fun Run ribbon to commemorate his or her victory over Rascal.
Additional sponsors for the Bandits Race to Home 5K and Fun Run were Electronic Communication Systems, Inc., ORA Orthopedics, HyVee, Pepsi, One Step, Great River Brewery, The National Bank, Sam's Club, Massage Envy and Power Grafx.
UP NEXT: The River Bandits open a six-game homestand with Markdown Monday presented by 97X for the 7 p.m. game April 14 against the West Michigan Whitecaps. Fans can purchase $2 bleacher and berm tickets, as well as $2 beer, soda, hot dogs, peanuts, popcorn at nachos. Tickets are available online at www.riverbandits.com. To order any of the ticket plans – with new lower prices – call the River Bandits box office at 563-324-3000. Season ticket and mini-plan packages start at just seven games and begin at less than $40. Call a River Bandits account representative today to choose your seats and get the details of our various mini-plan packages.
ABOUT THE BANDITS: Having just been named Ballpark Digest's winner of Best Ballpark Improvement in America under $1 million, the River Bandits ownership is making one of the biggest improvements to Modern Woodmen Park since the ballpark was first built back in 1931! A new Ferris wheel, standing 110 feet over the playing field, is opening in May, along with a carousel, a new ride called a "Drop and Twist," an expanded 300-foot long zip line, and many other new games and attractions. In 2013, the team unveiled a new 220-foot long dual zip line, a rock climbing wall, and a number of new bounce houses. The team's major league affiliate, the Houston Astros, just saw all six of its affiliates reach the playoffs – the first time in a decade any MLB team can claim such success. The River Bandits were one of three affiliates to reach the championship round and one of two to win their league championship.
This article originally appeared on the official website of the Quad Cities River Bandits. Click here to view the original story.