Dash to offer special military discounts for tickets on July 11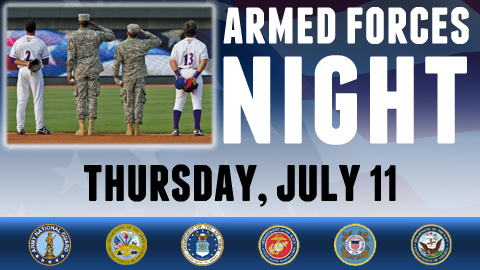 WINSTON-SALEM, N.C. (JUNE 28, 2013) – On Thursday, July 11, the Winston-Salem Dash will hold an Armed Forces Night at BB&T Ballpark to honor those who are currently serving or have served in any branch of the military.
The Dash have planned many events for Armed Forces Night, including members of the military taking the field with the Dash prior to the game. There will also be a mock induction ceremony on the field and a salute to the armed forces.
In conjunction with this special event, the Dash are offering special discounted tickets to those who have served in the armed forces. Regular $10 seats will be available for the price of $7 with a military ID. There will also be a special group outing package for groups of 20 or more. Along with the tickets, this package will include recognition on the left field LED board and game programs for just $10 per ticket.
The Dash will also be taking donations of gently used gloves, bats or baseballs to send to troops deployed overseas. In addition, the game will be a Thirsty Thursday at BB&T Ballpark. Fans can enjoy great drink specials throughout the game, including 50% off all canned and draft beer.
To purchase tickets for this special night, call the Dash at (336) 714-2287 or click here.
This article originally appeared on the official website of the Winston-Salem Dash. Click here to view the original story.