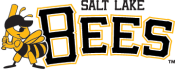 The Salt Lake Bees will honor men and women of the United States Armed Forces during Military Appreciation Night on Saturday, May 24 as the Bees take on the Fresno Grizzlies at 6:35 p.m. The evening will feature ticket specials and military-themed entertainment.
The Bees are offering all military personnel with proper identification a free reserved ticket to the game. Military personnel can also purchase half-priced tickets for their families. These tickets can be purchased by calling 801-325-BEES (2337) or at the Smith's Ballpark box office.
Colonel Ryan Britton with the US Air Force will throw out the ceremonial first pitch, the 807th Medical Command out of Fort Douglas, Utah will lead the presentation of the colors and the Hill Air Force Base 419th Anthem Choir will perform the national anthem and sing "God Bless America" during the seventh-inning stretch. A special military-themed fireworks show presented by Big O Tires will begin at the conclusion of the game.
Bees tickets are available online with no additional feels at slbees.com, by calling 801-325-BEES (2337), at the Smith's Ballpark box office from 8:30 a.m. – 5:30 p.m. or at all Smith'sTix outlets and Smith's Food & Drug Stores.
This article originally appeared on the official website of the Salt Lake Bees. Click here to view the original story.