Here is a link to the original story on the team's website.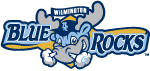 Wilmington, DE — The Wilmington Blue Rocks are excited to announce a partnership with JPMorgan Chase & Co. on a 2018 Military Monday promotion. At each Monday home game, every active or retired military member-and their entire immediate family-can receive tickets for just one dollar.
"The Blue Rocks have always had a fantastic relationship with the military, and now thanks to Chase, that connection has been taken to an entirely new level," said Blue Rocks general manager Andrew Layman. "With all of the sacrifices the men and women serving our country make for us, we are happy to partner with Chase to provide an opportunity for both active and military veterans to enjoy some family time at Frawley Stadium."
The new partnership is one of many initiatives benefiting military members from Chase. The firm established an Office of Military and Veterans Affairs in 2011 to drive veteran-focused efforts around three strategic pillars: employment, development of veteran talent, and small business and strategic initiatives. Since then, Chase has hired more than 12,000 veterans and service members-nearly 700 of them in Delaware. Last year, the firm donated $175,000 to the USO at a Blue Rocks game.
"All of us at JPMorgan Chase have a longstanding commitment to supporting military members and their families," said Tom Horne, Delaware Market President for JPMC. "We're proud to be able to continue that work on a local level right here in Wilmington."
Nationwide more than 400,000 veterans have been hired since 2011 by 235+ members of the Veteran Jobs Mission, an employer coalition led by JPMC with the ultimate goal of hiring 1 million veterans. Additionally, Chase has deeded more than 950 mortgage-free homes to military families through nonprofit partners as a part of the firm's 1,000 Home Awards Program-an investment of more than $160 million.
The Blue Rocks play Monday home games on May 7, May 28, June 25, July 2, July 16, August 20 and September 3. Tickets for this promotion must be purchased at the Blue Rocks ticket office and a valid Military ID must be presented to receive the special rate. Tickets for any other game in 2018 are available now at BlueRocks.com.
This story was not subject to the approval of the National Association of Professional Baseball Leagues or its clubs.