Here is a link to the original story on the team's website.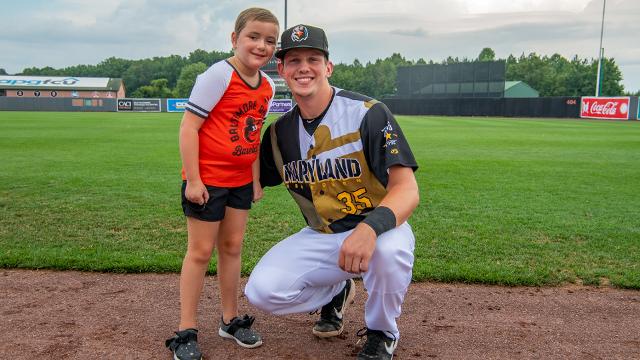 While baseball may be our focus here at Leidos Field at Ripken Stadium, the IronBirds take pride in being a part of the Aberdeen community and strive to make an impact that goes beyond the sport itself. On August 18th, the IronBirds recognized fourth-grader Lainey Loftus, whose brave story has inspired us all.
Last November, Lainey began having vision issues, which led her parents to bring her to an Ophthalmologist. It was there that they discovered something was pressing on her optic nerves and causing her loss of vision. After a CAT scan revealed a brain tumor on her optic nerves and Pituitary gland, her family was sent to Oncology at Johns Hopkins Children's Center. The doctor at Johns Hopkins decided the best course of action for Lainey was chemotherapy and radiation. Over the next few months, Lainey had four rounds of chemo and 24 proton radiation treatments. After many long months of fighting, an MRI in May showed that the tumor was gone, and her treatments were over. With her tumor gone, Lainey is gaining strength every day and begins fourth grade in a month.
Lainey enjoys playing softball and is excited to get back onto the field soon now that she is healthy again. She has always been a big Orioles fan and even got the chance to go to a game recently. At last Sunday's game, Lainey threw out the first pitch before the game. The IronBirds are proud to honor Lainey for her bravery in fighting this terrible disease, and so happy for her and her family now that she is growing stronger every day. No family should have to go through what the Loftus family has gone through in the past year. The IronBirds wish Lainey and her family the best as they begin a new chapter in their lives.
This story was not subject to the approval of the National Association of Professional Baseball Leagues or its clubs.