Here is a link to the original story on the team's website.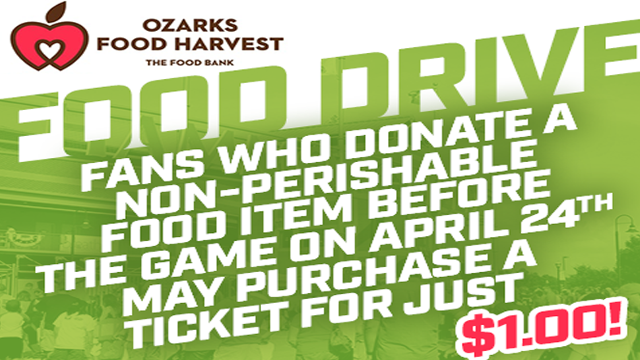 SPRINGFIELD, Mo. — The Springfield Cardinals are excited to partner with Ozarks Food Harvest to host the 2018 Cardinals Food Drive.
Running right now through the Tuesday, April 24 game at Hammons Field, the Cardinals are seeking donations of non-perishable food items. All fans that donate may purchase a discounted $1 ticket to the April 24 game for each item donated! First Pitch on Tuesday, April 24 is 6:30pm with gates opening at 5:30pm.
Tuesday is also a Great Southern Bank $1 Dog Day! The combination of helping your southwest Missouri community, $1 tickets to the Cardinals and $1 dogs may seem too good to be true. But it's not!
All non-perishable food items donated through the Food Drive will benefit the Ozarks Food Harvest, serving more than 200 non-profit organizations across 28 Ozarks counties.
The Ozarks Food Harvest's most needed items include:
– Tuna, salmon and other canned meats
– Peanut butter
– Beans, soups and stews
– Boxed meals, rice and pasta
– Canned veggies and fruit
– Cereal
To donate, please bring your non-perishable food items to the Cardinals Front Office at Hammons Field, located at 955 E. Trafficway, or the Box Office. The Front Office is open from 9am – 5pm, Monday – Friday. For more information, call the Front Office at (417) 863-0395.
This story was not subject to the approval of the National Association of Professional Baseball Leagues or its clubs.