Make a donation July 26-29 at Railyard Team Store for 2 free tickets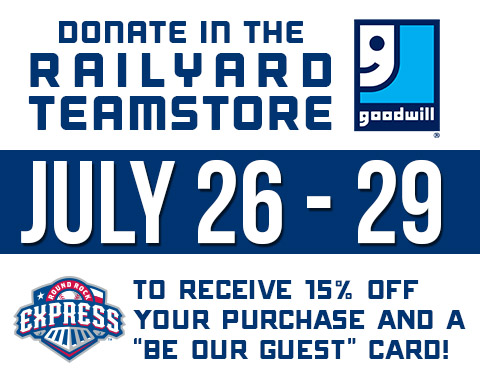 The Round Rock Express and Goodwill Industries of Central Texas have teamed up to present "Donations Weekend" at Dell Diamond starting Friday, July 26 and running through Monday, July 29, courtesy of Austin Goodwill.
Fans are encouraged to bring a clothing donation to the Railyard Team Store Friday-Monday to receive a "Be Our Guest" card, good for two Reserved tickets, and a coupon for 15% off your entire purchase from the Team Store!
Also, make a donation to the Goodwill store in Round Rock (150 W. Palm Valley Blvd) Saturday, July 27 from 11 a.m. to noon, to meet an Express player and Spike. Fans who make a donation will also receive a "Be Our Guest" card for their donation.
For more information about Goodwill Industries of Central Texas, please visit www.austingoodwill.org. Let's get out and help our Central Texas neighbors by donating!
This article originally appeared on the official website of the Round Rock Express. Click here to view the original story.