Accomplishments to be celebrated with entertainment and pregame parade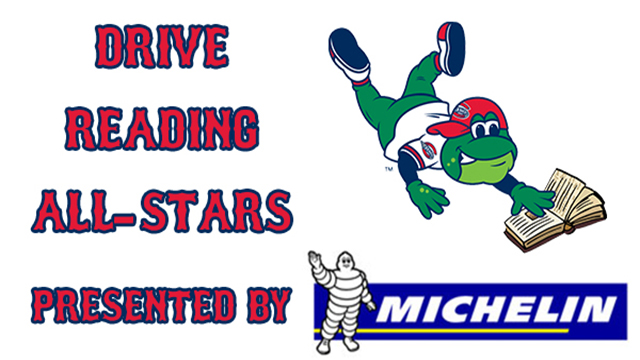 Fluor Field will host its first Reading All-Stars Night of the 2015 season on Monday, April 13th at 7:05! Monday's game marks the first of the Drive's three-game series against the Lexington Legends, affiliate of the Kansas City Royals.
Along with Michelin, N.A., the Drive are excited to welcome students from Greenville County Elementary Schools and Pickens County Schools to Fluor Field for a fun evening of celebration! The Drive's eighth annual Reading All-Stars program is designed to encourage learning and education success through reading.
A pregame parade of champions around Fluor Field that celebrates their success in the program begins at 6:30 PM, and each student will be provided with a Drive-Michelin Reading All-Star t-shirt.
During the game, schools with continued success in the program will be inducted into the Reading All-Star Hall of Fame, and top performers for the school year will be recognized. In addition, students will participate in the in-game entertainment, including a tug-of-war, shoe scramble, sack race and more!
Come out and support the Reading All-Stars on all their hard work in school this year! To purchase tickets, stop by the Main Street Box Office, call (864) 240-4528 or click here.
This article originally appeared on the official website of the Greenville Drive. Click here to view the original story.