Here is a link to the original story on the team's website.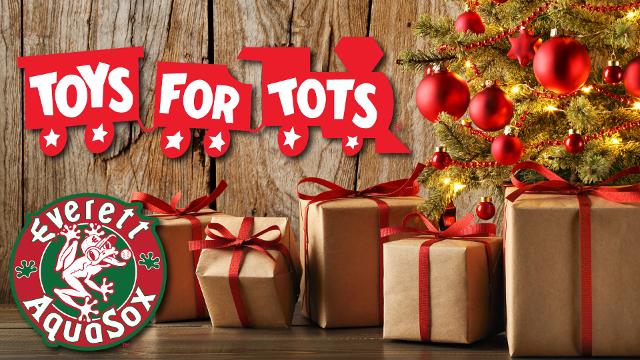 Everett, WA – The Everett AquaSox have partnered with U.S. Marine Corps Reserve Toys for Tots for the month of November through December 15. These toys will be distributed as Christmas gifts to needy children in South Snohomish County.
The Everett AquaSox are encouraging those in the Everett community to drop off their new, unwrapped toys for children newborn to 18 at the Everett AquaSox Front Office. The Front Office is located at 3802 Broadway, Everett, WA and is open Monday-Friday from 9 AM until 5 PM.
"Giving back to the community that has supported us since 1984 is a major key to our success as an organization." Marketing & Website Manager, Jason Grohoske said. "We partner with multiple organizations throughout our season, but we value continuing those relationships year-round."
The AquaSox and their fans donated 79 pairs of adult socks in October for Socktoberfest benefitting Our Savior's Lutheran Church. Socktoberfest raised nearly 1,050 pairs of socks in 2016.
Mini-Plan Ticket Options are currently available for purchase online at www.aquasox.com. This feature enables fans to select their seat for the 12, 16-Game plans or Full Season tickets. In addition, the AquaSox Mini-Plan holders receive exclusive MVP Club Membership benefits and the option to exchange tickets for games they are unable to attend.
Fans can also place deposits for the QBSI Press Box Suite, picnics or group outings by calling or visiting the AquaSox Front Office. For more information on how you can join the AquaSox in 2018, call (425) 258-3673 or visit www.aquasox.com.
This story was not subject to the approval of the National Association of Professional Baseball Leagues or its clubs.