The BlueClaws, OceanFirst Foundation, 92.7 WOBM and 1160 WOBM-AM are happy to announce the 2010 recipient charities for this season's "Home Runs for Heroes" program. This will be the program's second season. Last year, OceanFirst donated $24,000 to local charities that provide essential support to veterans and active members of the United States military after every BlueClaws home run at FirstEnergy Park.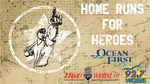 This season's recipients are the American Red Cross, American Recreational Military Services (ARMS), Army Emergency Relief (Fort Dix), Army Emergency Relief (Fort Monmouth), Navy-Marine Corps Relief Society (Earle), Navy-Marine Corps Relief (Lakehurst), Catholic Charities Diocese of Trenton, National Guard State Family Readiness Council and Vetgroup.
Like last year, the program will tie each position on the field (not including pitcher, but including designated hitter) with one of the randomly selected participant charities. Each home run by the BlueClaws at home this year will bring a $1,000 donation to the corresponding charity courtesy of OceanFirst Foundation. In addition to the grant money received, each organization will receive publicity at the ballpark and on WOBM AM and FM.
"Last year's program was a smashing success and we're looking forward to an even bigger season in 2010," said Katherine Durante, Executive Director of OceanFirst Foundation. "Our servicemen and women give the ultimate sacrifice and this is a great way to support soldiers and their families here at home."
"WOBM-AM and FM is proud to play a part in Home Runs for Heroes this year," said Kevin Williams, Vice President of Millennium Radio New Jersey. "This is a very significant cause that is close to all of our hearts. We hope that the BlueClaws hit a lot of home runs."
Results will be updated throughout the year on BlueClaws.com, OceanFirstFdn.org, Wobm.com, BlueClaws radio broadcasts and during all BlueClaws home games at FirstEnergy Park. All charities will have a representative interviewed on the Ocean County Breakfast Show by Shawn Michaels and Sue Moll on 92.7 WOBM.
Founded in 1996, OceanFirst Foundation is the first foundation in the country to be established by a bank as part of an initial public offering. OceanFirst's contributions to local charities continue to grow. In 2009, OceanFirst Foundation donated more than $1.2 million to community initiatives. OceanFirst Foundation has contributed approximately $20 million to over 600 local charities in Ocean, Monmouth and Middlesex counties since its inception. Its four priorities include Housing, Health and Wellness, Improving the Quality of Life, and Youth Development.