Here is a link to the original story on the team's website.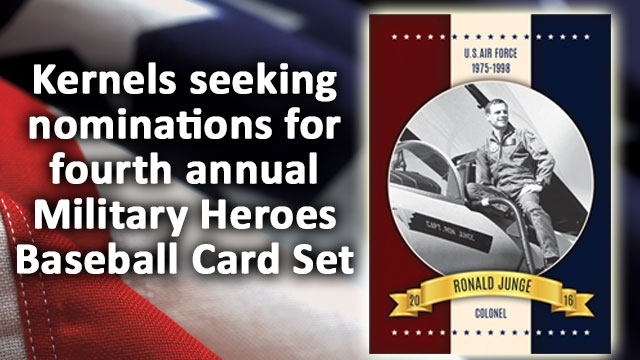 Cedar Rapids, IA – The Cedar Rapids Kernels are seeking nominations for their fourth annual Military Heroes Baseball card set. The card set will represent each branch of the military and honor those who are currently serving our country, veterans who have served in the past but are no longer active, and those who bravely fought for our country, but have since passed away.
The card set will be given away to the first 1,000 fans that enter Veterans Memorial Stadium on Tuesday, July 4th, 2017. Those military heroes selected to appear in the card set and their families will be honored on the field following the July 4th game, and will receive four tickets to that game.
In honor of Veterans Day, the Kernels will begin taking nominations for the Military Heroes Card Set on Friday, November 11th. The first 35 submissions will make it into the 2017 card set, so we urge people to turn in their nominations right away. Nominations will be taken until Tuesday, January 31st, OR, until 35 submissions are received.
To give all past and current military the opportunity to be honored in the Military Heroes Card Set, we ask that those veterans included in the 2014, 2015 and 2016 set not be nominated.
Nomination forms can be accessed by visiting the Kernels offices during normal business hours, or online at by clicking here. Nominations can be submitted online, or mailed directly to the Kernels offices. Please include a photo of the Military Hero along with your completed nomination form.
For more information on the Military Heroes Baseball card set, or to access a nomination form, please contact Ryne George at (319) 896-7617 or by e-mail at ryne@kernels.com.
The Cedar Rapids Kernels are the Midwest League affiliate of the Minnesota Twins. This story was not subject to the approval of the National Association of Professional Baseball Leagues or its clubs.