USO and Upstate Warrior Solution on hand to support the military; Fireworks to follow the game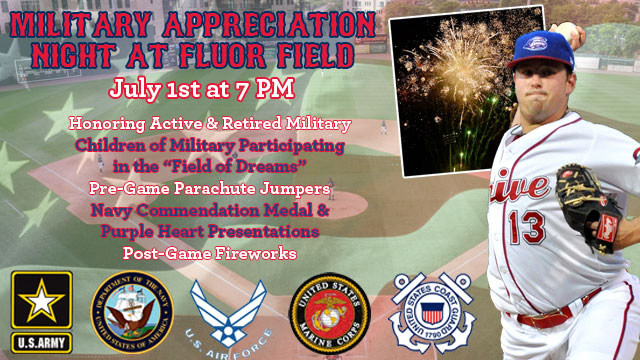 As part of an exciting kickoff to the Fourth of July weekend, the Drive are proud to honor both current and retired members of the military as they host Military Appreciation Night on Tuesday, July 1st at Fluor Field. The game between the Drive and Asheville Tourists begins at 7:05.
USO will be on hand to show their support for all military members in atten

dance. USO is a nonprofit organization that relies on the generosity of individuals and other organizations to perform their mission of lifting the morale of America's troops and their families. They will have an enter-to-win table on the concourse for a pair of Stars and Stripes hats signed by Drive players.
Fluor and Duke Energy, a pair of Drive partners, will also be on hand to support military members all game long.
Before the game, fans will get a chance to see parachute jumpers enter the stadium, and children of military members will participate in the "Field of Dreams" and take the field with Drive players.

During the game, the Drive and Upstate Warrior Solution will present Purple Hearts and Navy Commendation Medals on the field in between innings. Upstate Warrior Solution is a community-based nonprofit organization in the Upstate that connects warriors and their families to the resources they need in their lives.
A fantastic post-game fireworks show will cap off a special patriotic evening. Don't miss out as the Drive honor the bravery of current and retired military members and thank them for their service for our country!
To purchase tickets for Tuesday's game, stop by the Main Street Box Office, call (864) 240-4528, or log on to GreenvilleDrive.com.
This article originally appeared on the official website of the Greenville Drive. Click here to view the original story.