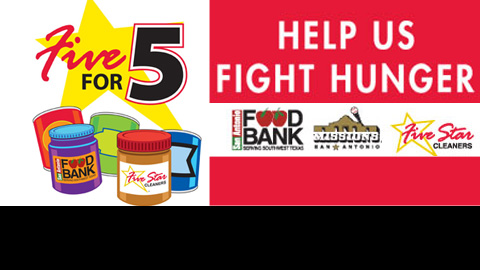 This summer the San Antonio Food bank will be feeding 7,000 children every day over 11 weeks during the summer at 150 feeding sites. These kids need your help, and we can make it easy for you!
Five Star Cleaners and Your San Antonio Missions invite you and your neighbors to join us in our Five for 5 summer food drive. It runs now through August 17th. We are asking you to bring 5 cans of food to any of the 18 convenient Five Star Cleaners locations.
Bring in five cans of food (and if you would include a jar of peanut butter in a plastic container it would be outstanding), and receive:
• A $5.00 off coupon for any future dry cleaning order
• Two free tickets voucher to select San Antonio Missions game."
• $10 off two tickets voucher to a future San Antonio Scorpions game
But wait! There is more!
On Sunday, July 15th…if you bring 2 cans of food here to the ballpark, we'll give you a voucher for BUY ONE TICKET, GET ONE TICKET FREE for that night's game against the Midland Rockhounds.
So, jump our team and be a part of Five for 5. You'll be glad you did, and you can take pride in knowing that you are helping San Antonio's under-privileged children.
Learn more by visiting myfivestarcleaners.com
This article originally appeared on the official website of the San Antonio Missions. Click here to view the original story.