Here is a link to the original story on the team's website.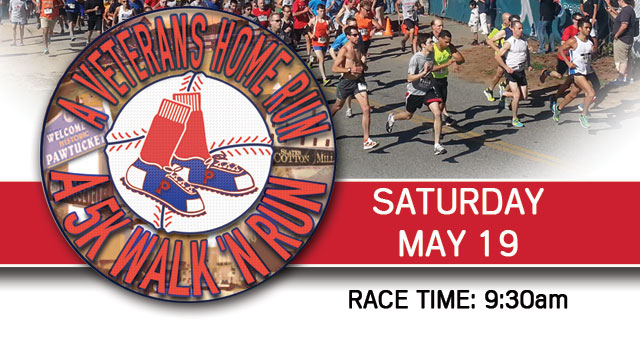 The PawSox Foundation will again present "A Veterans Home Run: A 5K Walk 'n' Run" to benefit those who have served in the military. The 7th annual event is scheduled for Saturday, May 19 at 9:30 a.m., starting and finishing at McCoy Stadium. Participants receive complimentary t-shirts, food, and tickets to a PawSox game.
The event will benefit Operation Stand Down, which serves 67,800 veterans and their families, as well as other organizations. The PawSox will also again recognize the "21 Heroes," the Pawtucket veterans who made the ultimate sacrifice in the Vietnam War.
One of the premier road races in the area, the PawSox 5K will start from the McCoy Stadium parking lot, weave through the streets of downtown Pawtucket, and finish with "a touch of home" on the PawSox' actual baseball diamond.
"We have enjoyed our community partnerships with Operation Stand Down, 21 Heroes, and the many organizations who provide needed care to our veterans," said PawSox Senior Vice President/Club Counsel Kim Miner, who also oversees the foundation. "Our 2017 race had more than twice as many participants as our 2016 race, and we are eager to see the number increase again in 2018."
"Our veterans and those currently serving in the armed services give so much to us to ensure that our freedom and the American Dream endure," said Pawtucket Mayor Donald Grebien. "Partnering to promote causes to support our veterans is the least that we can do. Thank you to the PawSox for working with our local organizations and investing in our community. And thank you to Operation Stand Down and Heroes 21 for ensuring that our veterans are never left behind."
Erik Wallin, Executive Director of Operation Stand Down RI added, "Operation Stand Down Rhode Island is grateful for the continued support of the PawSox Foundation. The PawSox have demonstrated a commitment to, not only recognizing the service of our local veterans, but also to join OSDRI in giving local veterans in need a hand up. The organization has been truly committed to serving those who have served and giving back to our local heroes."
The race is presented by National Grid, Planet Fitness, and Coast 93.3. Participants (up to 500) who register on pawsox.com will receive a free race t-shirt. Special pre-sale entry fees start today and continue through March 31. Participants may sign up at normal fees thereafter. On the day of the race, registration will open at 7:30 am and last-minute sign-ups will be accommodated for $5 more per person.
Cash prizes will be awarded to the winners. Participants receive free tickets to the May 23 PawSox game at 6:15 p.m. vs. the New York Yankees' affiliate (Scranton/Wilkes-Barre), and are invited to take part in a pre-game parade and award ceremony.
This story was not subject to the approval of the National Association of Professional Baseball Leagues or its clubs.