Bisons host Clippers on Thursday, July 16 (7:05 p.m.)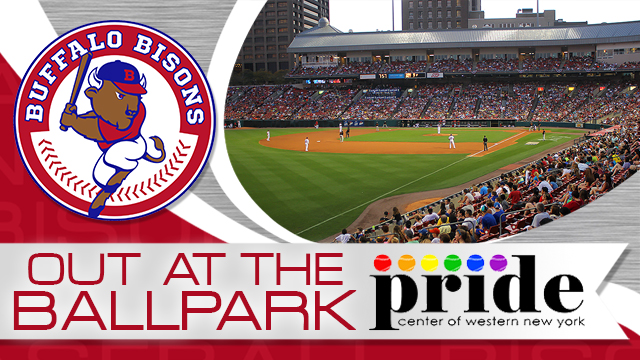 The Pride Center of Western New York and the Buffalo Bisons have announced Out At The Ballpark, an evening of professional baseball celebrating the vibrancy of Western New York's Lesbian Gay Bisexual Transgender Queer Community, for Thursday July 16 during the team's game versus the Columbus Clippers at Coca-Cola Field (7:05 p.m.).
The event marks the first time a professional sporting organization in Western New York has created an official event for the LGBTQ community. Founder of the Queen City Softball League Doug Scheidt will throw the game's ceremonial first pitch while the national anthems will be sung by out actor Marc Sacco, recipient of the 2008 Artvoice Theater Award for Outstanding Supporting Actor in a Musical. The evening will also feature entertainment and trivia by and for the LGBTQ community.
The Coca-Cola Field centerfield pavilion area will also open at 5:00 p.m. and feature live music and food and beverage specials from 5:00 p.m. to first pitch.
Fans can purchase a specially-priced $12 reserved seat ticket to Out at the Ballpark night by contacting Rob Kates at the Buffalo Bisons at (716) 846-2032 or rkates@bisons.com. Proceeds of advanced ticket sales will benefit the Pride Center of Western New York and their efforts to promote and celebrate the area's LGBTQ community. The Bisons will also be selling 'Out at the Ballpark' game tickets at the Pride Festival on Sunday, June 7.
"The Buffalo Bisons approached us a few months back expressing their interest in creating an event that would celebrate our community," said Matthew Crehan Higgins, Senior Director of The Pride Center of WNY. "Immediately it felt like something a little different and unexpected, and certainly whenever we have mentioned it to someone they smile right away."
"I am honored to have the opportunity to throw the first pitch and proud of the success of the Queen City Softball League, which has been playing every summer since 1993," Sheidt said. "At the time, we were eight teams, mostly gay and lesbian players, and mostly at a recreational level. I never would have imagined that 23 seasons later we would still be playing, sharing the field with a lot more straight allies, and playing at a variety of levels, from recreational to competitive. It's been great fun and I think a contribution to the social and athletic landscape of the city of Buffalo."
The Pride Center of Western New York, Inc. (PWNY) is a 501(c)3 nonprofit organization whose mission is to work with the community to make Western New York a safe, healthy, and satisfying place for lesbians, gay men, bisexuals and transgender people to live, work and establish their families.
-the herd-
This article originally appeared on the official website of the Buffalo Bisons. Click here to view the original story.