Here is a link to the original story on the team's website.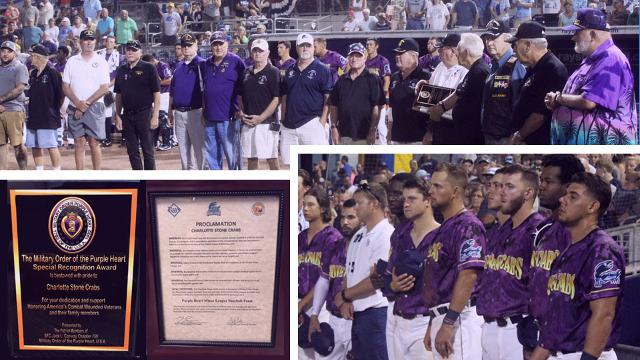 Every Saturday home game during the 2018 season is a Purple Heart Saturday where local Purple Heart recipients are honored on the field! Plus, Stone Crabs players wear special purple jerseys that will be auctioned off online during the season.
On Opening Night, the Stone Crabs brought twenty Purple Heart recipients to the field during the middle of the 7th inning for recognition. As part of the celebration the Military Order of the Purple Heart, U.S.A Chapter 759 honored the Stone Crabs with a special recognition award and made a Proclamation declaring the Stone Crabs as an official Purple Heart Minor League Baseball Team.
Fans will also have the opportunity to honor veterans that they know by posting pictures and information on Stone Crabs social media. These photos will then be displayed on the video board during Saturday games. For more information on how to submit a veteran, please email Ashley Stephenson at astephenson@stonecrabsbaseball.com
To purchase tickets for a Purple Heart Saturday or any other game this season, fans can go online or call 941-206-HITS. Fans can also purchase tickets in person at the FCB Box Office Monday-Friday 10 a.m.-4 p.m.
This story was not subject to the approval of the National Association of Professional Baseball Leagues or its clubs.