Raises $1,260 for local Veterans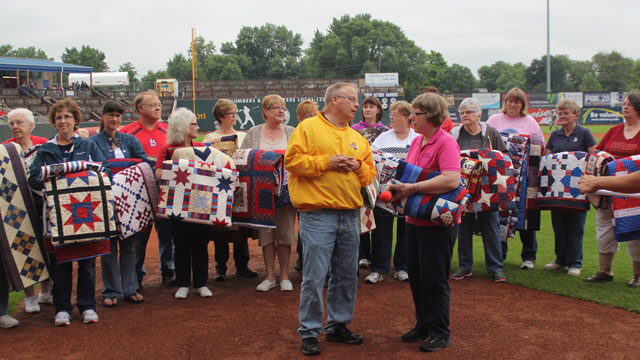 Sixty quilts and $1,260 was presented to Don Tyne and Linn County Veterans Affairs as part of Quilts to honor Vets in an on-field ceremony before the Kernels game with Beloit on July 5th.
The project began on March 8th as local quilters, organized by Connie Moyer and Connie's Quilt Shop in Marion, began making quilts at Veterans Memorial Stadium, with 60 quilts produced by June 2nd. Also, a special quilt was made that was raffled off at the July 5th game, and $1,260 was raised for Linn County Veterans Affairs through the quilt raffle.
The quilts will be given to local veterans in need through Linn County Veterans Affairs and events like Stand Down for Veterans.
"It was my honor to represent all of the quilters who spent their time and talents to make the 60 quilts that were given to Don Tyne to be distributed to local veterans as our way of saying thank you for their service to our country.", said event organizer Connie Moyer of Connie's Quilt Shop.
The Kernels begin a three game home stand tonight against the Wisconsin Timber Rattlers at 6:35 pm with the gates opening at 5:30 pm. The current home stand continues through Thursday, July 10th.
Morgan Hawk brings you all of the play-by-play on the radio home of Kernels baseball, 1450 KMRY AM and 93.1 KMRY FM. Fans may listen on-line at www.kmryradio.com, or www.kernels.com.
Tickets may be purchased on-line at www.kernels.com, or by calling the Kernels Ticket Office at 896-7560. Ticket office hours are 10 am to 5 pm, Monday through Friday, and 10 am to 2 pm on Saturday.
This article originally appeared on the official website of the Cedar Rapids Kernels. Click here to view the original story.