6th annual Celebrity Softball Jam & Inaugural Pitchin' Party announced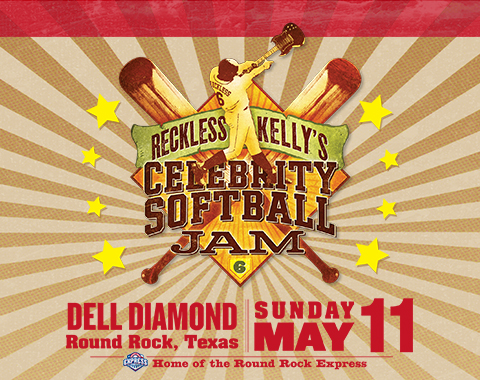 ROUND ROCK, TX – Award-winning roots-rock band Reckless Kelly, in conjunction with Ryan-Sanders Entertainment, announced a pair of events today that will benefit youth baseball and softball for years to come.
The duo's signature event, Reckless Kelly's Celebrity Softball Jam, will be held on Sunday, May 11 at Dell Diamond. Tickets for the 6th annual event go on sale this Friday, December 20 at 10AM.
RK and RSE also announced the inaugural Reckless Kelly's Pitchin' Party, to be held at The Belmont Austin on Tuesday, January 28th. Building off of the response received over the years through the annual Celebrity Softball Jam, RK is throwing a first-ever downtown Austin charity event in support the Reckless Kelly Charitable Youth Foundation. Reckless Kelly's Pitchin' Party will have celebrity guests, an acoustic show by Reckless Kelly and Friends, once-in-a-lifetime auction items, and other special surprises. Go to www.RecklessKelly.com/PitchinParty for more details and to purchase tickets.
Why the need for two events this year?
"This year we decided we really wanted to raise the bar," said Cody Braun of Reckless Kelly. "The Mabson Field project could be a game changer for kids locally along with similar programs and leagues around the country."
Proceeds from both events will go towards installation of an artificial turf playing surface at East Austin's Mabson Field, a youth baseball/softball field located in the heart of one of the most under-resourced neighborhoods in Austin. The field serves boys & girls ages 4 -12 in RBI Austin and the Greater East Austin Youth Association (GEAYA). Through a partnership with AstroTurf and generous contributions from MLB's Baseball Tomorrow Fund, the Nolan Ryan Foundation, the Round Rock Express, Ryan-Sanders Sports Turf Services and the Reckless Kelly Charitable Youth Foundation, the $270,000 project will be completed by spring 2014.
"This is a huge project, not just in terms of its physical and financial nature, but what it can do for the community," said Reese Ryan, CEO of Ryan-Sanders Baseball. "We've got a great group of partners on this and it's going to be something everyone can really be proud of."
RECKLESS KELLY CELEBRITY SOFTBALL JAM
The Celebrity Softball Jam combines nine innings of fun-filled, athleticism-optional softball with a talent-packed postgame concert on two stages in centerfield.
Tickets can be purchased online at RKCSJ.org, by phone at 512.255.BALL (2255) or in person at Dell Diamond box office. Early bird tickets are offered at a discounted price of just $10 until December 31. Starting January 1 tickets will available for $20. Gates open at noon on May 11 with the softball game starting at 1 p.m. The postgame concert is slated to start at 3 p.m. with two stages.
The long list of musicians and athletes that have participated in the past include Kevin Fowler, Randy Rogers, Los Lonely Boys, Mickey & the Motorcars, Hayes Carll, Muzzie Braun, Dale Watson, Charlie Robinson, Wade Bowen, Bruce Robinson & Kelly Willis, Cody Canada & the Departed, Kyle Park, The Trishas, Midnight River Choir, Pauline Reese, Kyle Petty, Norm Charlton, Bret Boone, Kevin Millar, Eric Winston, Brooks Kieschnick, Jesse James Leija, Curtis Thigpen, Ahmad Brooks, Kirk Dressendorfer and Greg Swindell. The 2014 line-up will be announced this spring.
Led by brothers Willy and Cody Braun, the band wanted to create a signature event with friends from the worlds of music and sports combining America's pastime and music to benefit Austin's youth. In five years, the Reckless Kelly Celebrity Softball Jam has raised over $150,000.
The Celebrity Softball Jam is a natural extension of band members' love of the game (and singing "The Star-Spangled Banner" in more than a dozen Major League ballparks). It was conceived by a perfect match: Reckless Kelly, whose members are keenly enthusiastic about baseball and the Round Rock Express, which had long had an interest in bringing music to Dell Diamond.
The Reckless Kelly Celebrity Softball Jam, created and produced by Reckless Kelly in conjunction with Ryan-Sanders Entertainment, is a registered 501C-3 through the Reckless Kelly Charitable Youth Foundation. Ryan-Sanders Entertainment is a division of Ryan-Sanders Baseball, owner/operator of the Round Rock Express (Texas Rangers Triple-A affiliate) and Ryan-Sanders Sports Services. They also operate Dell Diamond.
For more information on the 6th Annual Celebrity Softball Jam, visit www.RKCSJ.org.
This article originally appeared on the official website of the Round Rock Express. Click here to view the original story.