By Conca Recognized by the Hudson Valley Renegades for Outstanding Leadership and Academics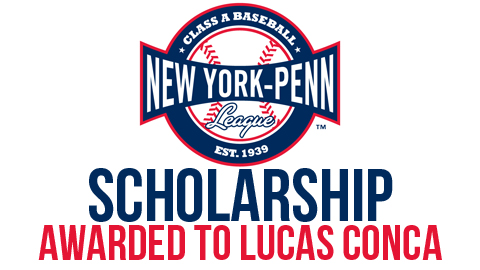 The Hudson Valley Renegades are honored to announce Lucas Conca as the winner of the NYPL Scholarship Competition in representation for the Hudson Valley Renegades organization. Conca is one of 14 finalists; one representative of each NYPL market that exemplifies the highest level of leadership, service to the community, involvement in extracurricular activities and impact on their local club.
The New York-Penn League and its 14 member clubs created the New York-Penn League Charitable Foundation, a 501(c)(3) charitable organization, in 2003. The mission of the Foundation is to provide focus and support for the collective and individual charitable and community efforts of the New York-Penn League, its Clubs, and their staff.
"Lucas has been a great asset to the Renegades organization for the past four years," said Renegades General Manager Eben Yager, "because of his exceptional leadership, outstanding academics and personal character, we are very honored to announce him to represent our club in the NYPL scholarship competition."
This year, Lucas graduated with honors from Our Lady of Lourdes High School in which he has received numerous awards including the "Coach's Leadership" athletic award and "Will to Win" athletic award. He also thrives in community service as he volunteers with CFR members to benefit the feeding of around 5,000 people with every trip to the South Bronx.
"The Hudson Valley Renegades have provided me with what I honestly believe is the best summer job a guy can ask for," said Conca, "Through the four years, I have grown both as an employee and person. I could not be more thankful to the team for the experience."
Lucas will be attending the University at Albany in the fall and has been accepted into the College of Nanoscale Science and Engineering, a world premier school for the cutting edge of all scientific research. On Tuesday, August 21, Renegades General Manager will conduct an on-field presentation awarding Lucas Conca $250.00 to be used toward books for his upcoming academic year.
This article originally appeared on the official website of the Hudson Valley Renegades. Click here to view the original story.