Here is a link to the original story on the team's website.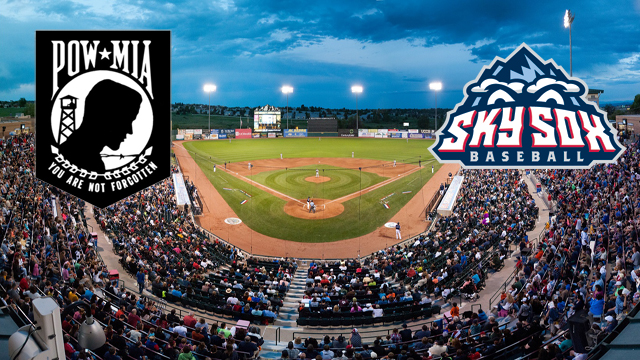 The Colorado Springs Sky Sox, in conjunction with Rolling Thunder ®, Inc Chapter 1 out of Denver, will dedicate a POW*MIA Chair of Honor at Security Service Field prior to their 7:00 PM MDT game against the New Orleans on Friday, May 26. The chair will be the first of its kind in Colorado Springs and the first in a sports facility in Colorado.
The pre-game ceremony, which will begin at 6:45 PM MDT, will include a message from Mike Messenger, the President of Rolling Thunder®, Chapter 1 Colorado, the reading of names of POW*MIA veterans from the state of Colorado and the dedication of the POW*MIA Chair of Honor.
"The POW*MIA Chair of Honor represents a void left by all American Soldiers, Marines, Airman, Seaman still missing in action, from all wars and who cannot be here with us today", said Mike Messenger, President Rolling Thunder Chapter 1 CO. "The Chair of Honor is a symbol of their sacrifice and serves as a reminder to all Americans that It was through their sacrifices that America remains free today. It is the mission of Rolling Thunder CO 1 and all of Rolling Thunder, to lobby Washington to continue their efforts to find them and bring them home. When ONE American is not worth the effort to be found, we as Americans have lost. We want to thank the Sky Sox organization for allowing us the opportunity to present to them and the community of Colorado Springs, the first POW*MIA Chair of Honor in Colorado."
The Chair of Honor will be adorned with a plaque reading, "This unoccupied chair is in honor of those that are still Prisoners of War (POW) or Missing in Action (MIA), and symbolizes there will always be a place in this stadium awaiting their return. You will not be forgotten."
"We are very proud to partner with Rolling Thunder to honor American POWs and soldiers missing in action with a permanent Chair of Honor at Security Service Field", said Sky Sox President & General Manager Tony Ensor. "It's through the sacrifices of these brave men and women throughout our history that we're able to celebrate our National Pastime as freely as we do today. This seat signifies that they will always have a home in which to return in Colorado Springs and that their sacrifice will never be forgotten."
About Rolling Thunder®, Inc.:
Incorporated in 1995, Rolling Thunder®, Inc. is a 501(c)(3) tax exempt, non-profit organization made up mostly of military veterans including many who ride motorcycles, though neither qualification is a prerequisite. The major function of Rolling Thunder®, Inc. is to publicize the POW*MIA issue: To educate the public that many American Prisoners of War were left behind after all previous wars and to help correct the past and to protect the future Veterans from being left behind should they become Prisoners Of War-Missing In Action. They are committed to helping American Veterans from all wars. As a non-profit organization, everyone involved donates his or her time because they believe in the POW*MIA Issue.
The 2017 Sky Sox season is in full swing at Security Service Field. For ticket information, game schedule, promotions calendar or for additional information about the Sky Sox, call (719) 597-1449, visit SkySox.com, like us on Facebook or follow the team on Twitter at @skysox.
This story was not subject to the approval of the National Association of Professional Baseball Leagues or its clubs.