Canadians fan Andrew Von Rosen helps our Foundation by enjoying the Blue Jays in Toronto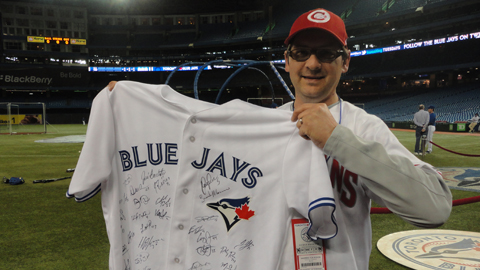 (Scotiabank Field at Nat Bailey Stadium – Vancouver, BC) – When Andrew Von Rosen heard the word 'sold' at the 2nd Annual Scotiabank Vancouver Canadians Baseball Foundation Hot Stove Luncheon back in February, he knew he was about to get the experience of a lifetime.
One of the Canadians live auction items that was in place to help raise funds for the newly-formed Vancouver Canadians Baseball League was a trip for two to Toronto to see the Blue Jays welcome the Texas Rangers.
The series itself did not disappoint with Andrew getting the chance to see Langley, B.C. native Brett Lawrie hit a game-winning, walk-off home run in the bottom of the 9th inning on May 1st against the defending American League champions.
"Without question that was one of the highlights," says Andrew who is a lifelong baseball fan.
On the field, Andrew and his guest got to see Rangers pitching sensation RHP Yu Darvish who outpitched Blue Jays arm RHP Kyle Drabek in a hard fought 4-1 victory for Texas.
The next night the Blue Jays fell behind 5-0 early before Toronto fought back with Lawrie's heroics capping off a 7-6 victory.
Andrew's final day saw Rogers Centre open up the roof to reveal piercing sunshine and an offensive explosion for the Jays and they topped the Rangers 11-5 to take the three-game series.
"To get to see the dome both open and closed was great. It is like two completely different stadiums".
Aside from Toronto and the Rangers exchanging pleasantries on the field, Andrew got to see the Blue Jays organization from behind the scenes including a tour of Rogers Centre, a meet and greet with broadcasters Pat Tabler and Buck Martinez as well as dinner at the exclusive VIP Club located right behind home plate.
The total package included flight, accommodation, tickets to all three games vs. Texas, dinner at the VIP Club and a team autographed Blue Jays jersey along with all the 'behind the scene' elements which included a viewing of the 1992 and 1993 World Series trophies.
Andrew's hotel room overlooked the field at Rogers Centre while one of his highlights was getting a tour of the Canadian Broadcasting Corporation's National Headquarters just steps away from Rogers Centre.
The Vancouver Canadians Baseball Foundation would like to thank Andrew Von Rosen for bidding on this exciting trip. Thanks to his generosity, more than 20 local children will have the chance to play baseball this summer out at historic Scotiabank Field at Nat Bailey Stadium in the Vancouver Canadians Baseball League.
This article originally appeared on the official website of the Vancouver Canadians. Click here to view the original story.