Here is a link to the original story on the team's website.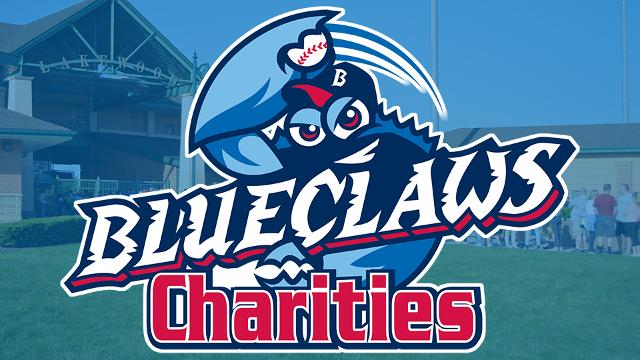 BlueClaws Charities completed their grant program, handing out grants to its Community Partner organizations.
—-
LAKEWOOD, NJ – BlueClaws Charities, the official 501c3 non-profit organization of the Lakewood BlueClaws, completed its 2017 grant program, handing out grants to 40 Community Partner organizations.
All Community Partners applied for and received a grant from BlueClaws Charities this year. Each applicant was asked to detail a specific use for the grant, with the requirement that all money received from BlueClaws Charities stays in Ocean & Monmouth Counties. A complete list can be found below.
"BlueClaws Charities is proud to be able to support such a wide-variety of organizations in our communities," said Jim DeAngelis, the BlueClaws Vice President of Community Relations and Executive Director of BlueClaws Charities. "These organizations have pledged to keep all funds in Ocean & Monmouth Counties and they are doing spectacular work to assist the underserved. It is our pleasure to be able to lend financial support."
BlueClaws Charities raises money throughout the year through special events like the Nine & Dine Golf Outing and Phillies Winter Banquet, through jersey and other specialty merchandise auctions, and a 50/50 raffle at each BlueClaws home game.
"Our fans and donors have been tremendously supportive of BlueClaws Charities over the years, and this year was no exception," said DeAngelis. "We look forward to another successful season in 2018!"
The following organizations received a grant from BlueClaws Charities.
ALS Association of Greater Philadelphia to subsidize their Chapters Care Services Program for ALS patient families in Ocean & Monmouth Counties.
Alzheimer's Association of Greater New Jersey to offset costs for a fundraising event to benefit New Jersey residents.
The Arc, Ocean County Chapter to subsidize costs associated with their major fundraising event, The Arc Walkathon.
The Ashley Lauren Foundation to assist children with cancer and their families through direct financial assistance.
Big Brothers Big Sisters of Ocean County to provide group mentoring activities which enables children on their waiting list to become involved with the agency.
Boy Scouts of America, Jersey Shore Council to provide program support for their ScoutReach Cub Scout Pack at Clifton Elementary School in Lakewood.
Caregiver Volunteers of Central Jersey to help defray costs of criminal background checks on volunteers prior to assignments.
Cheer Dream Xplosion Foundation to purchase equipment for their special needs program.
Crohn's & Colitis Foundation to improve the quality of life of those affected by the disease in Ocean & Monmouth Counties.
Daniela's Wish to grant wishes to ill children in their communities.
David's Dream & Believe Cancer Foundation to support families in Ocean & Monmouth counties affected by a cancer diagnosis.
Dottie's House to help funding their transitional housing program designed to provide survivors of domestic violence with tools, guidance and support to achieve financial and emotional independence.
Easter Seals New Jersey to provide individuals with disabilities and special needs the training and skills needed to independently work within their communities.
Emiliana's Hope to spread cheer to pediatric cancer patients in the area.
Exit 82 Theatre Company to help fund their 2018 production season.
Family Options Adoptions to provide funding for birth parent scholarships and supplies for birth mothers that decide to parent.
Girl Scouts of the Jersey Shore to help offer over 200 underserved girls from Lakewood the opportunity to attend the Girls Are Great summer day camp.
Go4TheGoal to help kids with cancer achieve their goals.
HABcore to help fund the supportive services program component of HABcore's Rapid Re-Housing program in Ocean County.
Holiday Express to help provide a unique interactive holiday musical program, led by volunteer professionals, to individuals who are often forgotten by society and in need of kindness.
JAR of Hope to help fund research to eliminate Duchenne Muscular Dystrophy.
Kids Need More to enhance the lives of children, families, and young adults coping with cancer and life threatening illness.
LADACIN Network to support their integrated Child Care program to empower children with and without disabilities to work together to succeed in their future education.
Lt. Dennis W. Zilinski II Memorial Fund to assist the organization in its mission to aid wounded warriors and their families.
Northern Ocean Habitat for Humanities for repairs for the 21 Easter Seals group homes.
Ocean County Family Support Organization to help offset the costs of trips for our Youth Partnership program.
Ocean County Shrine Club to support the hospital's MAGEC System, an adjustable magnetic growing rod used in a non-invasive, non-surgical manner to brace a child's spine during childhood growth to minimize the progression of scoliosis.
Ocean County YMCA to help kids, families, and seniors in the community find assets in YMCA programs and memberships regardless of incomes and backgrounds.
Ocean's Harbor House to provide for the fundamentals of setting up a household after youth graduate from the Transitional Living Program.
Ocean Partnership for Children to provide needy children and teens served by Ocean Partnership with winter attire, including hats, coats, boots, mittens, and gloves.
Piece of the Puzzle to purchase a computer desk and stool for their offices.
Parents of Autistic Children to provide a challenger sports league designed to offer a socialization opportunity through athletic participation between disabled students from different high school and middle schools in Ocean & Monmouth Counties.
Raising Hope for Others to assist with financial cost of organizing and running its major fundraiser.
RJM Sportsgroup to provide scholarships to Jackson Township graduates.
Saint Vincent DePaul Society to help pay for temporary sheltering for the homeless.
The Salvation Army of Ocean County to provide funding to their Feeding Program.
The Society for the Prevention of Teen Suicide to help their Youth Council seeking to engage ambassadors in the prevention process.
The TEARS Foundation to provide assistance to families who have lost a child due to pregnancy or sustained the sudden loss of an infant or child in Monmouth & Ocean Counties.
Tom Giannattasio Jr. Memorial Fund to provide a scholarship to graduating seniors.
United Way of Monmouth & Ocean Counties to purchase warm clothing for lower income children.
BlueClaws Charities, in addition to the grant program, supports hundreds of non-profit organizations with gift package donations, golf outing hole-in-one sponsorships, and specialty organizations such as OCEAN, Inc., a federal program that assists the less fortunate in the community. The "Tickets for Kids Program," another BlueClaws Charities initiative, donates over 2,000 tickets to under-served youths in Lakewood and elsewhere in Ocean County.
Organizations that would like to become Community Partners can call Jim DeAngelis at 732-901-7000 ext 114. Community Partners raise money through a BlueClaws fundraiser outing and have the opportunity to volunteer in the FirstEnergy Park concession stands to raise additional funds. These organizations also receive exposure through on-field presentations, table displays, and on BlueClaws.com, plus they have special opportunities to hold events, such as charity walks, at FirstEnergy Park.
The BlueClaws are the Jersey Shore's top stop for affordable, family entertainment. They crossed the 7-million fan plateau in 2017.
2018 BlueClaws ticket packages and group outings are currently on sale by calling 732-901-7000 option 3 or online at BlueClaws.com.
– BlueClaws Charities –
This story was not subject to the approval of the National Association of Professional Baseball Leagues or its clubs.