Here is a link to the original story on the team's website.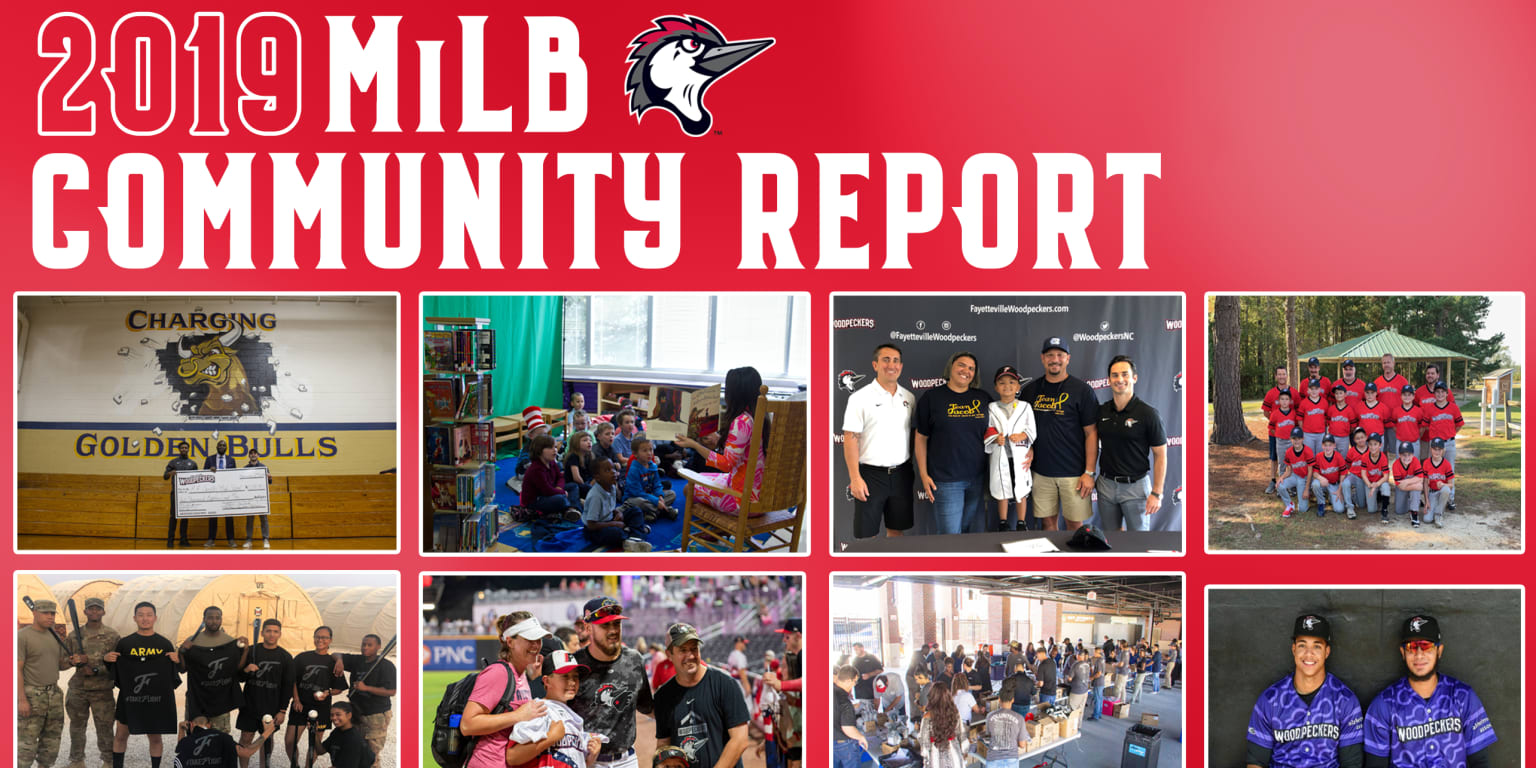 Since it's inception in March of 2019, the Fayetteville Woodpeckers Fund has implemented the Fayetteville Woodpeckers' desire to make a tangible impact on the Greater Fayetteville community through their official team charity. Investing over $71,000 in charitable giving, in-kind donations, and volunteer hours in their inaugural season, the Woodpeckers set out to establish a winning record not only in baseball games, but in their commitment to helping the community surrounding Segra Stadium.
The core program of this initiative, The Community Leaders Program, emphasizes a focus on youth sports and military causes. With the volunteerism and funds contributed by the Woodpeckers' 2019 Community Leaders Corporate Partners (Segra, AEVEX, ASUS, Walsingham Group, Inc., and CarolinasDentist), we were able to accomplish the following projects below in 2019.
Youth Sports
Sponsored uniforms for 21 youth baseball and softball teams throughout Cumberland County, including the Buddy Baseball Program for special needs children.
Purchased and installed a new scoreboard for the Buddy Baseball Program at their home field in Massey Hill. The previous scoreboard was damaged during Hurricane Matthew.
Provided new Nike PG3 basketball shoes for both Men's and Women's varsity basketball teams at E.E. Smith High School.
Military
Funded 50 scholarships for military children to attend summer camp at Rick's Place. Rick's Place is a veteran owned 50-acre park just outside Fort Bragg that provides support for active duty and veteran soldiers and their families. In addition, the Woodpeckers provided all 250 campers with a t-shirt to wear during the duration of camp.
In conjunction with the USO of North Carolina and with the help of over 70 volunteers from our corporate partners, the Bird Bath Kits initiative was launched. Over 1,000 Bird Bath Kits, which included various personal care hygiene items, were packed at Segra Stadium and then delivered to elementary and middle schools on Fort Bragg as part of our back to school project.
Purchased a new irrigation system to benefit the community garden established for veterans therapy at Rick's Place. This garden has a variety of flowers, vegetables, and herbs that veterans and their families are able to plant, tend, and harvest free of charge.
Other 2019 Charitable Initiatives: 
Paint the Park Purple, Alzheimer's Awareness Night – On Saturday, July 27th, 2019, the Woodpeckers partnered with McKee Homes to host Alzheimer's Awareness Night at Segra Stadium. The team wore custom purple jerseys that were auctioned off in-game, raising over $8,000 for the Alzheimer's Association of Eastern North Carolina. The first 2,000 fans through the gates that night receieved custom purple Woodpeckers shirts to wear during the game, while awareness/educational videos played throughout the evening.
Fayetteville Woodpeckers Fund Jersey Auctions – The Woodpeckers held two other impactful jersey auctions that benefited the club's charity in 2019. The first was a Patriotic jersey for our Independence Day Celebration game on July 3rd and the second was our end-of-season Inaugural home jersey set. These funds were used to help with the above Fayetteville Woodpeckers Fund initiatives.
Falcon Children's Home Christmas Initiative – The Woodpeckers purchased 120 toys for children (infant to 19 years old) to open during the annual Falcon Children's Home Christmas Party in December.
Childhood Cancer Awareness, Hailey Keller's Home Run for Life & Jacob Moore's Woodpecker for a Day – The Woodpeckers were honored to have Hailey and Jacob be a part of our Inaugural season. Hailey celebrated her five year anniversary of being cancer free by hitting a "home run" and running the bases during one of our inning breaks to a standing ovation. Jacob signed a one-day contract and enjoyed a full day of team training and fun as an honorary Woodpecker. Jacob has defied the odds and continues to fight while living with terminal neuroblastoma.
In addition to the above, the club fulfilled over 200 in-kind donations to organizations throughout Fayetteville and the surrounding communities. Our favorite red-cockaded woodpecker Bunker also made over 100 appearances throughout the region, putting a smile on the face of children and keeping our fans in good spirits!