Here is a link to the original story on the team's website.
The inaugural Volcanoes Stadium Community Markets in August and September were fabulous. Vendor space was Sold Out. Due to the Market's success, and as a result of many requests, the Stadium Market will return. A fall market is set for Friday and Saturday November 6th and 7th. A Christmas market will be held Friday and Saturday December 4th and 5th_. *_Friday November 6th and Saturday, December 4th will feature an evening format running from 4pm to 8:30pm. Saturday, November 7th and Saturday, December 5th markets will run from 11am to 3pm. Santa Claus is expected to make an appearance at noon on Saturday, December 5th. The markets will be open-air in the Volcanoes Stadium parking lot and will feature free admission and free parking.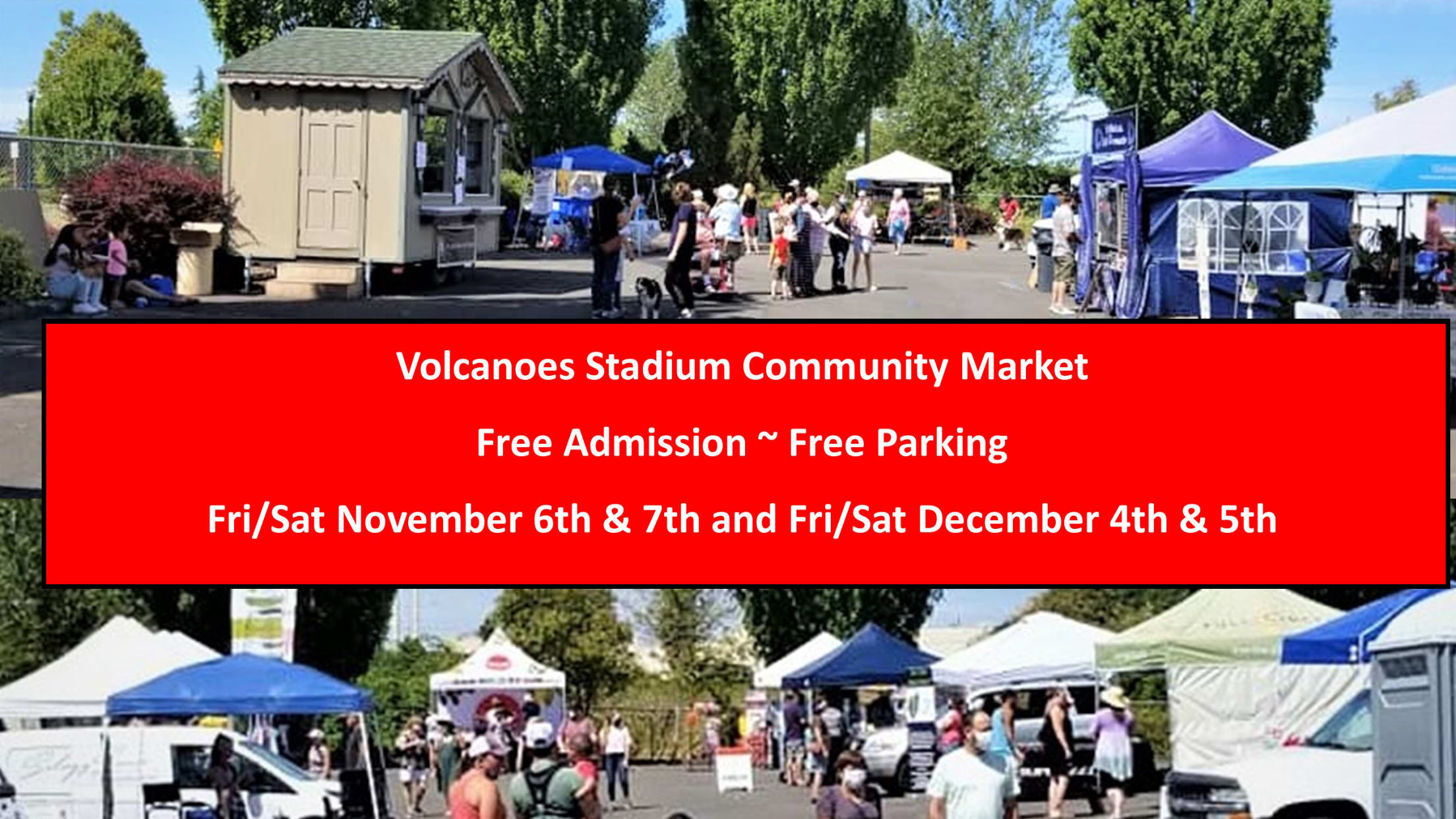 Location: Volcanoes Stadium ~ Keizer, Oregon
At a Glance – what to expect: An open-air market expected to bring a variety of Vendors, Food Trucks, Artists, Locally Grown Produce, Fruit, Flowers, Clothing, Jewelry, Crafts, Gifts and various Artisan works.
The market will follow COVID-19 protocols. Admission/Parking will be Free.
The Friday markets will open in the afternoon at 4pm and run into the evening until 8:30pm. Saturday's hours will be 11am to 3pm. Santa Claus is expected to make an appearance at noon on Saturday, December 5th. A festival type atmosphere is expected with music and entertainment.
"We're excited to provide an opportunity like this to the community," said Volcanoes' co-owner Lisa Walker. "Folks are looking for things to do and this is a perfect fit and something the entire family will enjoy."
Vendors and entertainers can apply to participate by contacting Lisa Walker at [email protected] or text 503-851-3111 as vendor space is limited.
Vendor benefits:
Easy load-in, load-out (drive right to your booth)
High profile location adjacent to Interstate 5 and Keizer Station Shopping Center
Large 16' x 20' paved sites that are socially distanced
Expansive 12-acre site
Promoted through the power of the Salem-Keizer Volcanoes' social media platforms (ranked #2 in the nation).
13,000+ facebook followers, 6,000+ twitter, posted on 100+ facebook groups.
Advertised on Volcanoes Stadium Interstate 5 marquee with over 250,000 impression each day.
Posted and promoted on EventBrite and expected local media exposure.
Association with highly respected community organization and well-known venue
Free Admission ~ Plenty of on-site Free Parking
Professionally managed with over 30 years of event management experience
RV dry camp available for vendors
For details contact Lisa Walker [email protected] or text 503-851-3111.